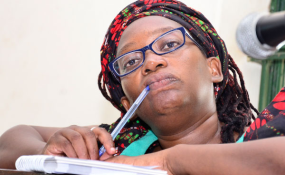 Photo: Alex Esagala/Daily Monitor
By Betty Ndagire
Kampala — The lawyer of suspended Makerere University Research Fellow, Dr Stella Nyanzi, has protested prosecution's request to cancel her bail over her Facebook posts.
Mr Peter Walubiri told the court that State prosecutor Jonathan Muwaganya's, request to Buganda Road Chief Magistrate's Court to cancel Dr Nyanzi's bail on account that she defied the sub-judice rule in her new posts on Facebook was a mere allegation.
"Your honour, the sane thing to do would be to treat the complaint as an allegation of contempt of court and the proper procedure would be to frame a charge so that the complainant can lead evidence," Mr Walubiri said. He explained that: "... the subject rule (sub-judice) is not codified in our law. It is just a common law rule of some antiquity. What is important is that the court proceedings should be determined in court but not out which will influence prejudice."
Mr Walubiri noted that in England where the sub-judice rule emanated, it has since been merged with contempt of court and that if you treat it independently, it infringes on the freedom of expression.
He added that a quick scrutiny of Dr Nyanzi's alleged derogatory posts shows that the prosecutor came to court unprepared to handle her case. "Court is having a case where roles have been switched and the accused is crying out as the victim," he said.
"Dr Nyanzi's latest posts were questioning a point of misconduct on the part of the State prosecutor who failed to keep time occasioning delays in court leading to case backlog. Your honour, Dr Nyanzi is the victim of this derogatory conduct. A public officer paid by taxes should pull up his socks. It is my prayer that this complaint which has no merit is disregarded," he submitted.
In reply, Mr Muwaganya said he is not personally bothered by Dr Nyanzi's posts. However, he said he raised a complaint because he is compelled to ensure that the sanity is protected as an advocate of court.
"The complaint was not intended to be a criminal or civil action. Your honour, it is true court advised defence lawyers to explain to the defendant to observe the sub-judice rule. My deduction from my learned brother's submission is that the duty was too heavy..," he said. He added that he needs court to answer the question of whether Dr Nyanzi's conduct did not offend the sub-judice rule which she was told to preserve as one of her bail conditions.