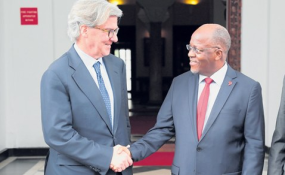 Photo: The Citizen
analysis
By Krispinana Krispinana
The mining sector in Tanzania is experiencing hard times now. The legacy of mining of the past decades has been shown to be very unfavourable to the country's interests in a recent report of Prof Nehemiah Osoro Committee formed by President John Magufuli to investigate the legal and economic impact of mining in relation to the impoundment of the mineral concentrates in containers that were destined for export by Acacia Mining Plc, a subsidiary of Barrick Gold Corporation.
Tanzania still has the potential in mining, but it needs the mining sector that operates on an overhauled legal, tax and regulatory landscape. This piece is intended to explore and flesh out tough dialogue between Barrick Gold Corporation, on the one part, and the government of Tanzania, on the other. Such dialogue is critical to reorganising Tanzania's mining sector.
There is a view enunciated by economist Milton Friedman in 1970 that "the business of business is business", that is, to make profit notwithstanding the existing cultural, socio-political and environmental circumstances of a country. Belief in this view of business responsibility has been blamed in certain quarters for making African governments and mining companies to steer clear of dialoguing on fundamental issues.
The bare truth, however, is that nowadays, because of globalisation, interconnectedness and interdependence, such a superficial attitude to business is unmaintainable.
There are fundamental issues that the Tanzania Chamber of Minerals and Energy (TCME), the government and other regulators, the Tanzania Mines, Energy, Construction and Allied Workers Union (Tamico) and the citizens--as represented by the Parliament of Tanzania--should be discussing under a "certificate of urgency" to establish a firm footing for the mining sector in Tanzania.
The issues are: (1) In what ways can Tanzania ensure that the benefits and risks of exploiting the country's mineral resources are shared more equitably amongst mining companies, the government and the people? (2) How can Tanzania deal with bad policies and dubious mining contracts to ensure co-ownership of the risks and rewards? (3) What areas of the existing mining legal, tax and the regulatory regime in Tanzania need to be amended to ensure economic viability?
Dialogue over these issues must be conducted taking into account the public interest and with frankness and mutual respect--the cornerstone of all relationships. Already, President Magufuli's government has demonstrated willingness to listen to Acacia Mining Plc and the mining sector in general when he accepted to meet with Barrick's chairman, Prof John Thornton, at the State House in Dar es Salaam this week. The mining sector, through TCME, should listen to the government also.
But besides the government, the private sector in Tanzania must confidently voice its observations while heeding to the shared, enduring interests of sustaining the mining sector.
Mining workers and Tamico must adopt a long-term view that goes beyond salary increments. Modernisation in the mining sector requires openness to fresh ideas and opportunities.
Strikes in defence of existing mining jobs may eventually be a hindrance to modernizing the sector. Therefore, Tamico should lead in encouraging modernisation that will create happy and fulfilling jobs and in fostering partnerships and collaborations that will benefit Tanzania.
President Magufuli has publicly decried the surfeit of problems bedevilling the mining sector in Tanzania. It is believed that decades of bad policies and dubious mining contracts have greatly contributed to the mess. Be that as it may, I believe that a turnaround in the sector is possible. It must, however, begin with opening engaging dialogue between the government, TCME and Tamico around the fundamental issues.
Then, the government must commit to fostering a stable, transparent, predictable and competitive environment and to ensuring that Tanzanians have the education and skills the mining sector needs. This would enable foreign investors to commit long-term resources for Tanzanian mining.
For their part, foreign investors, must realign their anticipations for high returns in the short-term with the very huge, risky and long-term investments that are inherent to large, sustainable mining projects.
Mining workers and Tamico must put a huge emphasis on better quality education and continuous training in an effort to build a sustainable mining sector that can enhance returns for all.
The foregoing requires mining companies in Tanzania to adhere to the country's laws, including local content requirements. Mining companies also need to align their corporate social responsibility (CSR) initiatives with the government's development strategies for reducing poverty and improving access to affordable and reliable healthcare, water and sanitation, education, and communication services.
In shaping the future of Tanzanian mining, we must reorganise the mining sector in a way that promotes industrialisation. This requires competitiveness in the whole spectrum of economic activities, including agriculture--above and beyond farming--and manufacturing.
A change in taxation is also required, because if mining companies stay focused on the exportation of mineral concentrates for processing out of Tanzania and paying a fixed percentage as tax to the Tanzania Revenue Authority on each consignment exported, then it's difficult to see how mining can truly promote Tanzania's industrialisation agenda.
However, if we allow a new era and reorganise the mining sector and brace up and harness all available opportunities, then mining can create a future for agriculture and manufacturing and become a catalyst of Tanzania's development.
The author (LLB, MBA, advocate) is a partner at Isidora & Company Advocates, where she advises companies and governments on mining projects.