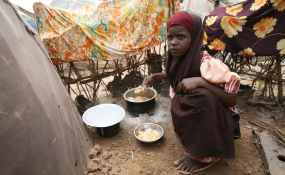 Photo: Manoocher Deghati/IRIN
The ambassador of Turkey to Somalia Olgan Bekar has handed over a ship carrying tonnes humanitarian aid to the federal government of Somalia on Saturday.
The Somali authorities began unloading 13,000 tons of humanitarian aid from the ship 'Sebat' at Mogadishu seaport, to distribute to the needy and drought-effected families.
The Turkish Red Crescent in Somali capital Mogadishu has launched aid campaign dubbed "be humanity's hope" aimed at helping millions of people fled from the famine-stricken regions.
The supplies, including, nutrient supplies, sugar, flour and other foodstuff, are sufficient to feed 3 million people for one month.
The ship also carries medicines, medical supplies, a diagnostic laboratory and heavy construction equipment meant to assist Somalia, as the country is in a recovery stage.