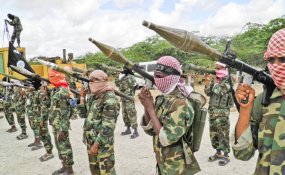 Photo: The Star
At least five people were killed and 12 others wounded in heavy fighting between Somali National Army soldiers and al-Shabab militants in the Bakol region of southwestern Somalia.
Somali army officials confirmed that the militants had attacked a government military base in el-Lahelay village, about 20 kilometers west of Hudur, the provincial capital of the region.
The militants used machine guns and rocket-propelled grenades to assault the base from different directions at midday Saturday, engaging in a fierce gunbattle with Somali troops for about an hour, officials said.
On the condition of anonymity, witnesses said that they saw the bodies of at least five combatants, some from each side. No civilian casualties were reported.