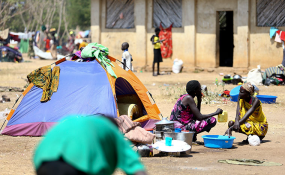 Photo: The Observer
opinion
By Crispin Kaheru
In recent months, the specter of refugees across the globe has increasingly attracted public interest as a political rather than humanitarian question.
Scaremongering over refugee influx has fed into elections in some of the most stable democracies in the world, upsetting or threatening to reorder the political landscape.
This was most glaring in Britain's Brexit, and the recent United States and French elections. As Germany prepares for an election in September this year, Chancellor Angela Merkel is spinning the refugee rhetoric in her favour as the populist Alternative for Germany (AfD) party bids to cash in on anti-migrant sentiments.
On the other side of the hemisphere, a relatively small landlocked country - Uganda - stands out. Uganda has shouldered a burden that better-resourced countries have shirked.
How? It is built in culture first; in Uganda, you don't turn away a person in need. Anyone seeking safety and a place to call home is accommodated no matter the host's own circumstances.
The culture of generosity and the asylum regime that Uganda has cherished over decades has given the country an unparalleled edge over many others across the globe that have opted to run conservative closed-door policies towards refugees.
The latest count indicates that Uganda hosts over 1.2 million refugees; one of the largest numbers of refugees a single country has taken in during the 21st century.
Most of the refugees in Uganda are from South Sudan, Burundi, Democratic Republic of Congo, Somalia, Rwanda and Eritrea. Uganda once played host to Polish refugees fleeing persecution in Europe during the Second World War.
Uganda's welcoming custom and refugee policy has not come free. Today, 12 of its 117 districts shoulder the trials of hosting substantial numbers of refugees.
Yumbe district's population is currently estimated at 564,000. Over and above this figure, the small district in Uganda's West Nile region hosts about 272,000 refugees fleeing violence in South Sudan. This is nearly half the district's population.
Albert Odongo, a government official at Yumbe, confesses to feeling the pinch of his district's generosity. He acknowledges that the refugee crisis is hurting the local economic and social infrastructure.
"Social services are under a lot of strain, yet we have to care for our brothers and sisters," says Odongo.
As the district grapples with the challenge of providing basic health care, education, water, sanitation and food to locals and refugees, the glaring reality of poverty lurks around.
Over 40 per cent of the population in Yumbe district lives below the poverty line - it can barely afford three meals in a day. While the response to refugee influxes is largely the responsibility of the central government, the planning and delivery of basic services (within host communities) is under the charge of district local governments.
In the last six months, Uganda has received between 2,000 and 4,000 refugees per day from South Sudan. This sharp population increase from the refugees' arrival has cracked Uganda's economic and social infrastructure.
Even though host communities have often demonstrated warmhearted generosity for new arrivals, the impact is undeniable. The reality is that host communities are close to breaking point.
So, when Uganda convenes its first-ever Solidarity Summit on Refugees this week, it will be sending a strong message of optimism and togetherness. Uganda will simply be leading the recital of the creed that no country or community is alone in its struggles; the world is undoubtedly connected and interdependent.
Even through daunting circumstances, Uganda has not buckled.
The challenge is big, but the willpower to face it is bigger. Responding to the humanitarian and development needs of refugees in Uganda requires an estimated $2 billion per year.
In 2016, government of Uganda and the United Nations spent $300 million responding to needs of refugees and the communities hosting them - leaving a straight deficit of about $1.7 billion.
The needs of refugees are vast and transcend plain words of compassion. Refugees require a myriad of services that will empower them to be resilient and self-reliant. Host communities, on the other hand, require sturdy social service architecture to match the challenge at hand. All these demand colossal amounts of resources.
When the world descends on Kampala from June 22 to 23, 2017 to speak refugees, delegates must, beyond pledging support, make use of the platform to reaffirm their responsibility to ending violence and instability.
This summit should also be deliberated as a milestone to change the narrative from mere humanitarian assistance to long-term development of refugee host countries.
We can make it happen!
The author is the coordinator of Citizens' Coalition for Electoral Democracy in Uganda.