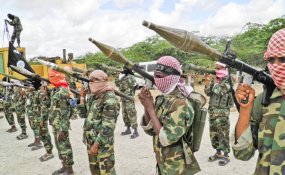 Photo: The Star
Al shabaab militants have attacked military bases manned by Somali forces and their allied Djibouti peacekeepers on the outskirts of Bulaburte town in Hiiraan region on Sunday.
The armed militants raided the army barracks from different directions, before engaging in a fierce gunfight with the allied troops, according to a resident, who spoke to Radio Shabelle.
Hassan Nur, the district commissioner of Bulaburte said the soldiers have repulsed the attack, and warded off the attackers from their bases outside the town following the battle.
The Al Qaeda-linked Al shabaab claimed victory over the attack against the Somali soldiers and Djibouti peacekeepers serving with the African Union Mission in Somalia (AMISOM).