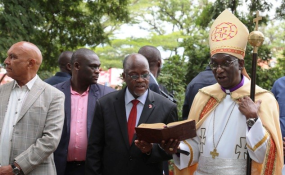 Photo: State House/Daily News
Arusha — The International Evangelism Church has called upon all Tanzanians to rally behind President John Magufuli in the crusade he has ignited to safeguard the country's resources and have Tanzanians benefit from the same.
Addressing members of the media here yesterday, Bishop Eliud Issangya hailed Dr Magufuli for defending the helpless, partly, by forming two teams to review what was said to be mineral sand in several containers detained at the Dar es Salaam port, only to find there was gold worth between 676bn/- and 1.146tr/-.
Bishop Issangya said Dr Magufuli has emerged as a unique president who has dared to defend his be lief firmly, in spite of the fact that there were people who were trying to distract him while others waged war against him.
Bishop Issangya expressed satisfaction of the Church over what Dr Magufuli has accomplished in his short stint at the highest office of the land.
He praised President Magufuli for standing up courageously with determination for his country and its people, to put an end to plundering of the country's mineral resources which were benefiting a few people.
"We commend His Excellency President Magufuli for the heroism and strength he has demonstrated so far in safeguarding the country's resources which were benefiting a small minority,' said Bishop Issangya.
The clergy who was flanked by Kilimanjaro West Diocese Bishop, Gerald Mollel and Rev Michael Laizer from Arusha Diocese said the president should know that the faithful in the country are entirely behind him and are happy to see where the country is currently heading.
Dr Issangya conducted prayers for Dr Magufuli so that he can continue with the war while having good health and the courage he has shown so far. He asked the head of state to target, with the same spirit, other areas such as wildlife, oil and gas resources so that they benefit all Tanzanians equally.
He also asked the president to give an eye to small miners so that they are apportioned their plots to work on, in order that they can make both ends meet and at the same time end conflicts with big companies that have been going on in the country.
President Magufuli formed two committees in April to investigate the controversial export of mineral concentrates and tasked them to come up with proposals on the appropriate measures to pursue, to reverse the exploitative trend in the country.
Prof Abdulkarim Mruma chaired the committee that investigated the amount and types of minerals in the concentrates, while Prof Nehemiah Osoro's team conducted the profit-loss analysis in the mining sector since the exports started in 1998.