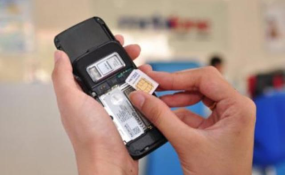 Photo: Daily News/State House
Once the managerial problems at Uganda Telecom have been fixed, Ugandans will be compelled to own a UTL Simcard just like having the national identity (ID) card Evelyn Anite, the outspoken State minister for Investment and Privatization has revealed.
Speaking yesterday at the Uganda Telecom staff blood donation drive at the Constitutional Square in Kampala, Anite said having a UTL mobile phone line will be a show of patriotism and pride for Ugandans. UTL has been facing challenges, including a debt of nearly a trillion shillings, which saw it being placed under administration.
In a major policy announcement, Anite, whom President Yoweri Museveni fondly calls "my daughter", said time is coming when having a UTL line will be a mandatory requirement for every Ugandan.
"It did not take us to get somebody from another country to come and fix what is [problems] in UTL. We're not yet done but we are close by...I want to tell you something; that once we fix the problems in Utl, it is going to be compulsory for Ugandans to hold a UTL line just as it is for you to have a national ID, you must have a Ugandan line. That is the spirit of patriotism", she said.
She however, didn't spell out how government will implement the proposal.
Anite, who has been instrumental in ensuring that the telecom doesn't wind up, applauded the staff for not only keeping the telecom company afloat but ensuring that it is not taken over by foreigners. Early this year, Libyan Post, Telecommunications, and Information Technology Company (LPTIC) who owned up to 69 percent announced that they would no longer fund the operations of UTL after they failed to agree with the Ugandan government, which owned the other 31 percent at the time on a planned strategy to revive the indebted telecom.
Anite said there were very many forces which wanted UTL to die, but the staff held it up.
"I want to thank you the staff of UTL, for holding UTL at the time when everyone thought that UTL was going down. You gave me strength, everyone was saying UTL is part of history. I was struggling with some people until we got the administrator. The administrator told me; don't come to UTL, those guys are promising. They are young people who value their country, they know Uganda Telecom is the communication line that we have as Ugandans", she added.
The administrator of UTL, also the registrar-general of Uganda Registration Services Bureau, Twebaze Bemanya, said the situation at UTL has improved significantly, adding that very soon they will call the minister for a cake ceremony.
Several UTL staff URN spoke too talked of great changes in the telecom company, adding that things are turning around for the better.
On blood donation, the minister said it is crucial for saving lives, adding that both UTL and Uganda Blood Transfusion Services are doing a commendable job.
"The availability of blood is very essential for the smooth running of our country and the health of any country's system. Safe blood is needed daily by expectant mothers. I just have a baby of seven months, and I tell you what; I needed blood at the time [of giving birth].
There are Ugandans [donors] like you who supported me at the time when I needed blood...Actually every able Ugandan who has blood, has to donate blood, because you will not know the challenge of not having blood until you get yourself into an accident, until you become anaemic. Until you are on that hospital bed that you realise, that when they tell you there is no blood in the blood bank that you wish you had donated your blood at one stage", Anite said.
Both Anite and Bemanya kicked off the blood donation drive by donating blood themselves. Most of the UTL, as well as URSB staff, donated blood. Dozens of members of the general public attended the event.
URN