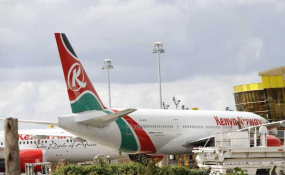 Photo: The Nation
By Edwin Mutai
Nairobi — The Kenya Airways (KQ) bailout last week raised Kenya's commercial debt to Ksh725.7 billion, fresh Treasury data shows.
Parliament last week approved the Treasury's guarantee of $750 million (about Ksh77.3 billion) loans owed by the ailing national carrier even as MPs called for the prosecution of all individuals responsible for sinking the 'Pride of Africa' into huge debt. The Treasury data shows that the country's commercial bank debt -- supplier's credit plus commercial bank debt plus international sovereign bond -- stood at Sh648.3 billion or 7.9 per cent of the gross domestic product (GDP) as at May 25.
With Parliament approval of the Sh77.3 billion loan guarantee to Kenya Airways, the total commercial debt rose to Ksh725.7 billion or 8.8 per cent of GDP.
The data, presented to the National Assembly's Finance, Planning and Trade Committee that scrutinised the sessional paper on the airlines' loan guarantee, shows that the current total contingent liabilities amount to Ksh57.68 billion but will rise to Sh135.16 billion with the guarantee of KQ's Ksh77.48 billion.
The committee said Kenya's total borrowing was fast-approaching the set limit of 50 per cent to the GDP in net present value (NPV) terms.
"Currently, the country's debt stock to GDP is 47.8 per cent in NPV terms, which is Ksh4.306 trillion in nominal terms against a total nominal GDP of Sh8.2 trillion for the end of 2017.
"If Kenya were to exhaust this limit, the country would not be able to borrow in the event of a shock," the Finance Committee said in its report on the approval of sessional paper number 3 of 2017 on the government guarantee in support of the restructuring of Kenya Airways.
KQ, as it is known by its international code, secured House approval that will see the Treasury guarantee long-term loans that the airline owes the US Exim Bank ($525 million) and local lenders ($225 million).
These guarantees are being made in exchange for "material concessions" that include an extension of debt tenors, which will improve the airline's repayment obligations.
Under the arrangement, the government will convert its existing loans in Kenya Airways amounting $243 million debt plus accrued interest into equity. (NMG)