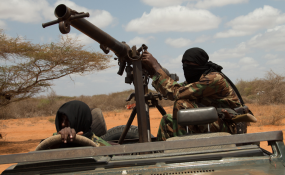 Photo: Hamza Mohamed
A loud explosion was heard in the heart of Somali capital, Mogadishu on Tuesday noon.
A car packed with explosives was reported to have happened at the administrative headquarters of Mogadishu's Wadajir district, killing at least 20 people, mostly civilians.
Witnesses said the car bomb which was heard parts of the capital has ripped through the compound, and sent a tick plume of black smoke into the sky.
There was no immediate claim of responsibility for the deadly attack, which becomes the second since the start of the holy month of Ramadan.
Al shabaab has claimed responsibility for the deadly car bomb attack in Mogadishu.
More to follow soon.