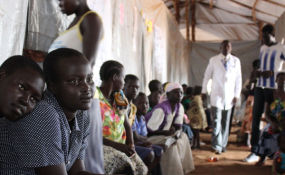 Photo: Nick Trombola/Daily Monitor
By Frederic Musisi
According to the United Nations, at least $1.6b (Shs5.6 trillion) is urgently needed for humanitarian assistance to 5.8 million in South Sudan this year as a result of the largely ethnically-driven political crisis that has been escalating since last July.
The crisis initially began in December 2013 when forces loyal to President Salva Kiir, a Dinka, and those loyal to former vice president Riek Machar, a Nuer, faced off in the capital Juba following months of mounting tensions, after only two years of winning self-rule from Sudan.
In December 2015, President Kiir dissolved South Sudan's 10 regional states and created 28 new states, fueling the conflict further to other areas that erstwhile basked in relative peace.
Some 2.3 million people, the UN says, have been displaced both internally and to neighbouring countries, while more than 300 have been killed. The government and rebels have been implicated by independent rights groups and UN agencies in abetting mass atrocities ranging from indiscriminate killings, rape, to torturing and pillaging civilian property.
"Honestly, what did we do to God to deserve this? The cruel madness and chaos: that our own leaders can do such to their own people while the rest of the world keeps looking on," Beatrice Kasara posed the question to me, as she narrated her escape journey from Parjok in Eastern Equatorial state, more than 200 miles, to the border reception outpost at Elegu in Adjumani district where she arrived.
Uhm, uhm, hmm, I retorted inaudibly more than once as I wriggled for a comforting response: then eventually managed a casual "at least you are safe here now", a futile attempt of assurance as if it would console her melancholic life here in Palorinya Settlement Camp in Moyo district.
Even though the camp is improved to feel like home, by her narration it all feels like sterile environment.
Unimaginable suffering
On the Saturday she narrowly escaped last October, Ms Kasara says SPLA forces, the government forces, arrived early morning and started shooting randomly. She adds: "One thing I cannot forget is the soldiers were Dinkas."
"I remember I was preparing for breakfast. I just grabbed my daughter who was nearby the kitchen and we ran," the mother of two recalled. "My husband was playing with the other daughter: I don't know which direction they took."
She and another group of women and children kept running for the entire day until they found what they thought was a safer place to sleep that night.
"Little did we know we were in a rebel stronghold: heavy gunfire ensued not far from where we were, then we started running again," Ms Kasara said, taking long pauses between sentences.
The wandering, surviving on water from streams and wild fruits continued for another two months until the group finally connected with another group that led them to Elegu. As she battled severe dehydration, she remembers her daughter, aged three, was on brink of death from malnutrition.
"I couldn't stop thinking about my husband and daughter but what difference would it make? If I continued to mourn, I could die as well so I was better off running."
The location of the Palorinya settlement, about 40km from Moyo town, is awe-inspiring.
With the River Nile flowing in the background and palm trees darted everywhere, the area is a tropical paradise of sorts: quintessential for an exclusive resort.
The settlement was reopened last year in November by the Department of Refugees in the Office of Prime Minister (OPM) and UNHCR after the refugee influx spiraled. Palorinya was home to South Sudanese refugees from 1990s until early 2000 when they were repatriated.
The current total refugee population in the camp is 162,062. When we visited on June 1, OPM officials were in the process of screening and registering another 1,026 refugees who had just been bused in from Elegu.
The officials indicated that the camp has now been closed to new arrivals, and that the government is negotiating with communities in Lamwo to expand the settlement camp there to accommodate new arrivals.
Palorinya is divided into three semi-autonomous zones where aid agencies, especially UNHCR, Oxfam, World Vision, UNICEF, Red Cross and Médecins Sans Frontières, are working tirelessly extended the basic humanitarian assistance amidst tight budgetary shortfalls.
Ms Kasara is a bit lucky, for upon arrival in Palorinya, she found people she knew back home who broke the news to her that they had escaped with her husband and daughter. Her mother had also survived and run with them, but they had been relocated to Imvepi settlement camp, 150km away, in Maracha/Arua District. Most refugees in Palorinya are in fact from the Equatorial state, officials indicated.
A UNHCR official said there are several of such cases of families being separated but "normally, adequate preparations involving officials of the camps have to be made and finalised to reunite families."
However, given the shortage of resources and magnitude of burdens, "this is something done when there is a window."
Broken promises, lost dreams
That notwithstanding, several of her colleagues: some young mothers have been condemned to widowhood while others are pregnant out of rape.
But for Ms Kasara, who lived nearly all her childhood as a refugee and now aged 22, her main worry is that as things stand right now her daughters may grow up to become mothers when still running for life. That is why, she says, she labours with the question of what possibly the people of South Sudan "could have done to God to deserve what is happening to us."
An open, humane and straightforward response to the crisis back home by all-accounts seems far from reach.
A report released last year by the Sentry, an investigative initiative co-founded by American actor-activist-philanthropist George Clooney, established that while the rest of the population suffered, top South Sudan government officials and army generals were reaping big, raiding the country's coffers at will and investing in real estate and expensive vehicles in Uganda, Ethiopia, Australia and other countries.
The United Nations human rights commission in December last year warned that South Sudan was "on the brink of an all-out ethnic civil war," calling for the deployment of 4,000 peacekeepers to protect citizens from a "Rwanda-like" genocide.
The UN Security Council is still pondering sanctions against President Kiir, Dr Machar and other individuals fuelling the war, while the Intergovernmental Authority on Development (IGAD), a seven-member regional bloc, continues to shuffle back and forth over where to get funding to jumpstart an earlier adopted proposal backed by the African Union to deploy a neutral force to maintain peace and protect civilians.
President Kiir and Dr Machar, in August 2015 agreed to a peace deal--to share power-- to end fighting that started in December 2013, but the fighting continued.
In the agreement, Mr Kiir was to remain president and chair of the council of ministers; national defence council and national Security Council, while the opposition/rebels, led by Dr Machar, were to appoint the first vice president who was to be in charge in the absence of the president.
The deal also proposed a 30 months running transitional government, sharing of ministerial positions and influence in upper oil-rich provinces. The opposition was to retain majority--53 percent stake in the oil-rich greater Upper Nile region three states of Unity, Upper Nile and Jonglei, while the government would take 33 percent and 14 percent will be divided between former detainees and other political parties.
The arrangement, however, started crumbling in December 2015, when Mr Kiir dissolved the initially agreed 10 regional states and created 28 new states. A unity government was formed in April last year but in July everything fell part following an alleged assassination plot against Dr Machar.
President Kiir eventually fired Dr Machar and his former ally, Gen Taban Deng Gai, as first vice president, prompting Machar's group to sound more war drums.
The resumption of fighting in July attracted widespread condemnation after the SPLA/government troops attacked a residential compound in Juba hosting expatriate and national staff of aid agencies, beat and tortured civilians, most of them Nuer, who were seeking UN's protection, and raped women, including humanitarian workers. In the days that followed, SPLA soldiers kept hunting Nuer down communities, destroying their property and raping women.
Condemned for life?
The ethnic rivalries that have stoked the political tensions since 2013 have since spread on the ground in the refugee camps, pitting all other tribes led by the Nuer against the Dinka.
Despite the somewhat alike tales of fleeing violence marred by wanton killings, torture, plunder and forced displacement, the other tribes see the Dinka as the foundation of their untold misery.
As a result there are fist-fights nearly every day in the settlement camps in Lamwo, Arua, Yumbe, Adjumani and Yumbe. In fact while cohesion is enforced within the settlements, segregation along tribal lines is a living reality.
In Ivemp camp camp, located in Maracha/Arua District, about 73km from Arua town, the settlement's commandant, Mr Denis Mbaguta, told Daily Monitor, such fights are "very common here and are sparked by even the most trivial of things, but we try to put them in line."
For example, Mr Mbaguta explained that in most scenarios the Dinkas cannot come anywhere close in the vicinity of other tribes.
"For that matter we have a few Dinkas here: most of them are resettled in Adjumani."
Imvempi had been closed in March 2012 following repatriation of the last batch of refugees a year after South Sudan's independence, only to be reopened early this year in February after the nearby Bidi Bidi settlement camp in Yumbe District and currently believed to be the largest refugee camp in the world, overshot its capacity.
Imvepi, measuring about 59 square kilometers, has a total refugee population of 110,000 spread out in 20 villages, that each comprise 20 homesteads. The camp, Mr Mbaguta said, still has additional capacity for another 50,000 refugees.
The camp has seven primary schools, with enrolment of 2,000 pupils and only one secondary school with 200 students. It has only two permanent health facilities that offer services ranging from immunisation, antenatal, vaccination and outpatient.
At the MSF run health center III, the only one in the camp, Mr Hassan Yusuf, the in-charge, says malaria is the leading cause of deaths in the camp, followed by respiratory infections.
Mr Yusuf also warned that cases of post-traumatic stress disorder, a mental health condition triggered by a terrifying event -- either experiencing it or witnessing it, are very high but given the limited resources available "we do what we can and leave the rest to God."
Compared to Bidi Bidi or Palorinya, the conditions in Imvempi are also still appalling, with water, hygiene and sanitation issues. Access to clean water is very limited, and water trucks that haul water 30km away cost Shs 1m every day; there are six trucks available for that purpose. Overwhelmed by the costs of hauling water, aid agencies led by Oxfam are working around the clock to drill boreholes around to reduce the financial burden.
Through the 2006 Refugee Act, the refugees in Uganda have the right to work and travel freely, access social services enjoyed by the host communities, and two plots of land to cultivate some food crops and live on.
In fact, this is what keeps many of them going, foraging normal lives but this is not the case at all for colleagues who fled to Ethiopia, Sudan, Kenya and Central African Republic, which don't offer rights in equal measures to refugees.
That definitely calls for urgent action to end the war despite ongoing peddling of bureaucracy over what needs to be done or else like Ms Kasara worries every day, many children will grow up to become refugee parents.