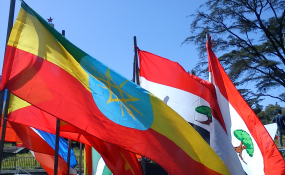 Photo: Soman/Wikipedia
opinion
By Robel Yohannes
Many analysts and scholars have said that Addis Ababa is emerging as a major actor in the Sub-Regional, Continental, and even global scenes by mentioning material growth indicators such as economic growth, military advancement or demographic evolution. This piece tries to view Ethiopia's emergence through the angle of cultural prism and the impeccable peacekeeping records that serve as soft diplomatic power for the country.
Ethiopia has recorded rapid and successive economic growth for the past two decades. According to IMF's estimation, the country will be in a position to overtake Kenya as East Africa's largest economy in the very near future. 'The Atlantic Council' points out that investors have continued to flow to Ethiopia with some $500 million in new Foreign Direct Investment in the last quarter of 2016 alone, despite the recent rough patch the country and economy went through (last year's unrest and El-Nino induced drought that affected the agriculture sector).
With its burgeoning power, Ethiopia is also leading the way in integrating the region by initiating various development projects. Reports that come out from the Ministry of Foreign Affairs routinely announce an initiative or a project that would link the region through infrastructure and trade.
"The mega projects that are under construction, such as the Great Ethiopian Renaissance Dam, road and energy networks linking the country to a number of neighboring countries and the hosting of refugees fleeing civil war and atrocities in their countries also add up to Ethiopia's leading influence to economically integrate countries in the region," says Samuel Tefera (PhD), Assistant Professor at the Center for African and Oriental Studies at AAU.
He believes that Ethiopia's influence is growing over time despite a number of challenges in the country. Another indicator Samuel highlighted is Ethiopia's counter-terrorism operations, and its peacekeeping and stabilizing roles the country played in the region. Ethiopia has the 2nd strongest army in the continent, according to 'Global Fire Index', whilst its peacekeeping troops have significantly contributed to Africa's peace and stability.
On the diplomatic corridors, Ethiopia is an important actor, as host of the AU and Chair of the Regional Bloc IGAD. Dr. Samuel points out the willingness of its AU member States to delegate Ethiopia to lead a number of initiatives representing the continent as a showcase of AU's trust in the country, and adds this comes as a result of the global recognition of the country in economic, political and cultural fronts.
Berhane Fisseha, IGAD Focal Point for the Ministry of Foreign Affairs, says that main thing that shows the rising stature of the country is its changing image. He says that Ethiopia had for long been attached to a number of negative images to the point that the country had been out of the imagination of the world. "But, today all have changed for the better."
"The Prime Minister is invited to join G-7 and G-20 meetings, which leaders of countries with better economic standing than Ethiopia haven't been able to get the chance to." Ethiopia is one of the two only Africa countries that have been invited to China's 'One Belt, One Road' initiative, he also adds. There are also many other instances. "All these realities show that the 'Ethiopia rising' narrative is not a mere rhetoric, but a tangible one."
The cultural aspect
Any talk of 'rise' of influence will not be complete without taking into account the cultural aspect of things. In this regard, we have to see it from outward and inward perspective.
Outwardly, it is safe to say that Ethiopia's cultural influence is not in the fast lane as its diplomatic and economic rise, and is currently some odd years away from reaching that level. Inwardly speaking, as the 'political capital' of Africa and the third biggest diplomatic hub in the world, only next to New York and Brussels, Addis Ababa, and by extension Ethiopia, are better seated to be open to international guests, residents and cultures - to be a cultural 'melting pot'.
More specifically, in an article put out by 'Mail & Guardian Africa' on similar subject, it is stated how Addis is mushrooming with international hotels and restaurants that have African cuisine, the growing extent of Ethiopian songs that are being infused with both Western and Southern African beats, and how African dances are influencing local styles.
"Being a political capital of Africa, Addis Ababa enjoys a unique mix of culture and a beautiful combination of Pan-Africanist thoughts", says Dr. Samuel before adding how the city and country is becoming a cultural hub of Africa with the increasing presence of the diplomatic and international community. As a scholar of AAU, he concedes that there is still a long way to go, despite the commending efforts to promote Pan-Africanist ideologies through culture and art at the Center for African and Oriental Studies at AAU, exchange of cultural tropes and commemoration of national/independence days.
Talking about the cultural side, one cannot avoid mentioning Pan-Africanism and Ethiopia's huge role in it. "Ethiopia has been a beacon of hope and inspiration for Africans by defeating colonialist force", says Berhane "an inspiration for African people to free themselves out of the shackles of colonial rule." Berhane believes the City's contribution to the Continent's culture, art, music is growing considerably and should continue as such.
Peacekeeping as 'soft power'
Ethiopia's growing involvement in UN and AU sanctioned peacekeeping missions not only help in rising its influence in the diplomatic corridors, but also has the potential to serve as a soft power for the country.
The term 'Soft power' entered the political lexicon after it was first coined by the political scientist Joseph Nye in late 1980s. He defines the term as "the ability of a country to persuade others to do what it wants without force or coercion."
Just to get an idea how widely it is used in the current state of global affairs, looking how much attention the Chinese government is giving to elevate its soft power in correspondence with its global economic emergence gives better understanding.
Although the most notable assets for soft power are culture, education, language and [national] values, there are alternative components to be utilized as soft power. In this regard, peacekeeping can be taken as one of the avenues. Ethiopia's impeccable peacekeeping exploits can serve as an influence whilst enhancing the country's standing in the diplomatic table as a soft power.
Moreover, it can serve as a vehicle to infuse Ethiopia's national priorities, or in another word, values, that are stated on its Foreign Affairs and National Security Policy and Strategy, which postulates that the country's development, peace and security are intertwined with the development, peace and security of neighboring countries.
In this essence, what other better way is there to infuse these 'values' for the country than its peacekeeping mission, which aims at exactly doing that (promote regional peace and stability) practically. This is one vehicle of flexing soft power given that most of Ethiopia's mission takes place in the continent and more specifically in the sub-region.
Furthermore, helping a country get peace is not an easy task, and since soft power is all about winning hearts and minds of the counterpart, this is textbook exercise of soft power. Look at Ethio-South Korea relationship.
Dr. Samuel says Ethiopia's successful intervention in deploying peacekeepers to bring refuges and vulnerable groups to safety, along with its economic standing, can be flexed as a soft power. As for Berhane, by mentioning Ethiopia's role in bringing peace in Somalia and South Sudan, he highlights on the complimentary role the peacekeeping mission play in Ethiopia soft power diplomacy.