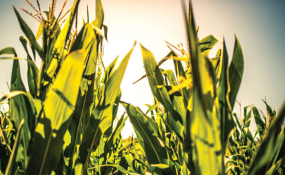 Photo: The Independent
By Andrew S. Kaggwa
Kampala — Barbara Ntambirweki, a research fellow with Advocates Coalition for Development and Environment (ACODE) is preparing for a bit fight - against introduction into the country of Genetically Modified Organisms (GMOs).
She laughs off suggestions by GMO proponents that the recent attack by the army worm has softened the resolve to oppose the introduction of a pro-GMO law in Uganda.
"If they think they will have it easy when they introduce the Bill again they are joking. We are even more organised than before," Ntambirweki says as she sifts through her battery of petitions and other documents she has been writing to parliament on the issue.
She is referring to the National Biotechnology and Biosafety Bill 2012 which was in 2013 presented to Parliament amidst opposition mainly from Civil Society Organisations (CSOs). Speaker of Parliament Rebecca Kadaga sent the Bill to the Parliamentary committee on Science and Technology for scrutiny but, in March, President Yoweri Museveni told Parliament to quickly pass the Bill 'to help the country resolve some of the problems the agriculture sector is facing."
It was the first time the President, who was at his demonstration farm at Kawumu State Lodge in Luweero District, was giving his opinion on the controversial issue, and appears to be the official line now.
But Ntambirweki and her camp say the Bill is bad because it seeks to smuggle GMOs into the country without safeguards and that the government and its agencies are using the threat of hunger to convince the country that GMOs are the magic bullet for solving all the country's agricultural challenges - which, according to her, is a lie.
The anti-GMO lobby cites the example of Africa's top cotton producing country; Burkina Faso, where GMO cotton was introduced but later abandoned after Monsanto supplied cotton damaged the quality. The fiber length, one of the chief measures of quality, was reduced, causing Burkina Faso's cotton to fetch lower prices on the world market.
Ntambirweki's opponents, the proponents of GMOs, however, appear equally determined to ride on the recent attack on the maize crop by the fall army worm to introduce GMO maize. According to this group, GMO maize will not be susceptible to attack from the fall army worm or any other pests and diseases.
Leading the pro-GMO army of scientists is Dr. Ambrose Agona, the director general of the National Agriculture Research Organisation (NARO).
Money, politics behind the National Biotechnology and Biosafety Bill 2012
Unknown to most Ugandans, NARO currently runs one of the most active GMO research facilities on the African continent. According to the South African based African Center for Biodiversity (ACB), Uganda has the largest number of GMO crops under testing by NARO. These include maize, bananas, cassava, potato, rice and sweet potatoes. And Dr. Agona admits doing the research even if the activity is illegal under current laws.
At the peak of the fall army worm invasion in March, Agona told journalists that NARO has developed several GMO crop varieties that can withstand drought, pests and diseases but the law does not allow NARO to release them.
"If the biotechnology law was in place we would be able to release this maize variety which is resistant to the armyworm," he said.
The coordinator at National Crops Resources Research Institute (NaCCRI), Barbara Zawedde backs Agona's position. She says farmers continue to suffer economic losses yet researchers are developing varieties resistant to drought, pest and diseases and shelving them because there is no law. NaCCRI is one of NARO's research institutes located at Namulonge. She says the scientists have developed solutions to banana bacterial wilt, viruses in cassava, and drought resistant maize and rice.
"Bacterial wilt is causing Uganda an annual loss of over Shs600 million," Zawedde says.
The Executive Secretary of the Uganda National Farmers Federation (UNFF), Augustine Mwendya, also says he backs the passing of the Bill. UNFF is an umbrella body for all farmers' associations in the country.
Even politicians like Kabweri County Member of Parliament, Francis Gonahasa, say people like Ntambirweki who are fighting GMOs are simply ignorant. Gonahasa who has a university degree in agriculture says even though he belongs to the opposition Forum for Democratic Change (FDC) party, he is with the government when it comes to GMOs helping increase food security and productivity.
"Some of those opposing the Bill don't know that the broiler chickens they buy from the markets are a product of GMOs," Gonahasa said. Even some of the imported food products on shop shelves contain GMO ingredients and are ironically consumed by the same opponents of GMOs.
Revelations by Zawede, Agona, and Gonahasa appear to have pierced a painful spot among the anti-GMO camp. ACB estimates that 80 percent of food in Africa is produced by small-scale farmers who cannot afford the expensive GMO seeds.
"Genetic technology is extremely expensive. A farmer needs at least 500 hectares (1200 acres) before it pays its way. Most small scale farmers own much smaller plots of land," ACB says.
According to ACB, in South Africa, farmers have to pay twice, sometimes five times as much for genetically modified maize than for the conventional variety. They cannot even extract seeds for replanting from their own crop and have to buy a new batch every year.
An official of a group against introduction of GMOs in Nigeria 'Friends of the Earth Nigeria' said African governments had learnt nothing from the Burkina Faso fiasco.
Now Ntambirweki is accusing Ugandan scientists of being in the pay of American GMO merchants.
On Monsanto payroll
NARO is allegedly carrying out its GMO research under a project called Water Efficient Maize for Africa (WEMA) using money provided by American pro-GMO organisations including the Bill and Melinda Gates Foundation and Monsanto, which is a big U.S. multinational which produces 90% of GMOs in the world, according to Greenpeace, a global organisation which fights environmental degradation.
Monsanto also sells fertiliser, pesticides, and weed killer - such as glyphosate - to buyers of its genetically modified seed. In Uganda the weed killer is traded as Round Up. However, Roundup and other glyphosate brands have been banned in some countries for allegedly having disastrous effects on biodiversity.
According to South African based African Center for Biodiversity, a nonprofit organisation against genetic engineering and biopiracy, Bill Gates and his wife; who are the richest couple on earth, pump large sums of money into agricultural projects they support, including those involving GMOs.
Ntambirweki says some Ugandan scientists, politicians and journalists have received money from the pro-GMO groups and multinationals and been sponsored on foreign trips to countries like Brazil which have embraced GMOs.
"The idea is for them to come back here and promote them," says Ntambirweki. She says the first ever biotechnology and biosafety journalism awards ceremony in Uganda held by the Uganda Biosciences Information Centre (UBIC) in May was sponsored by WEMA using pro-GMO money.
Ntambirweki has some big guns in her camp; including the Executive Director of The Presidential Initiative on Banana Industrial Development (PIBID), Rev Prof. Florence Muranga. The PIBID boss says the government should not introduce GMO bananas because they are a threat to indigenous varieties and would affect the export of the crop.
"We have received orders to export banana products to both North and South America but the first condition is that they should not be GMOs," Muranga is quoted to have said in May at the closure of training on banana production, marketing and value addition in Bushenyi District.
Even some NGOs working with farmers and individuals have joined the fight. Among them is Patrick Iga who was voted the best farmer in Uganda in 2014 in a competition organised by the New Vision Publications, KLM Airlines, and the Dutch Embassy and is the CEO of Farming Consultancy and Management (FACOM).
Iga says GMOs are one of two ways in which developed nations want to control the developing countries; the other is militarily.
"These big nations through companies like Monsanto want us to depend on them for seeds and that is the main reason why they are mostly targeting maize and other grains because they are aware they are the staple foods of people in the developing world," he says.
He adds that many parliamentarians and politicians need to understand the concept of GMOs.
"There are four types of seeds or plants; indigenous, hybrid, improved, and GMOs," he says, "however many people, including MPs, can't differentiate between the last three."
According to Iga who owns a 30 acre farm in Luweero District mainly specialising in agro tourism and growing of fruits and vegetables, Uganda needs hybrids and not GMOs.
"Hybrids have all the attributes of GMOs like resistance to diseases and drought and are safer," he says.
He says hybrids can be propagated locally in Uganda and cites a variety of maize called FACOM Long Grain which he created that he says is resistant to drought and many diseases. He says GMOs, on the other hand, create are made by big companies like Monsanto which become monopolies of the seed.
Iga rubbished the idea that GMOs would increase food output and said more emphasis should instead be put on developing irrigation system and providing fertilizers to increase the output by the farmers. He said that even if GMOs are introduced when many farmers are still depending on rains to grow crops the problem of food insecurity will not solved.
"Can those advocating for GMOs tell us whether GMOs will not need water like our indigenous crops," says Iga who has also authored several books on farming.
Hakim Baliraine, a board member at Eastern and Southern Africa Small Scale Farmers' Forum (ESAFF - Uganda) said GMOs will only give short term solutions that are not sustainable in the long run.
He explained that indigenous seeds are still relevant but the challenge is mainly caused by low soil fertility and environmental degradation.
"What government should do is initiate irrigation schemes and subsidise the cost of fertilizers for small farmers," Baliraine who is also a member of Alliance for Food Sovereignty in Africa (AFISA).
The Independent made numerous attempts to get NARO to explain their research but the scientists became evasive and said Director General Agona answers such questions. But Agona, when contacted on phone, said he was "too busy". He asked that questions be sent to his e-mail but still did not answer them.
Unanswered questions
The questions were mainly on common concerns about GMOs, comments on the Burkina Faso GMO fiasco, biosafety and diversity, and farmer and environmental protection, and effect of GMOs on pollinating animals; including bees.
But Ntambirweki says to avoid duping and misleading the public, the title of the Bill before parliament should be changed to reflect what it is about instead of trying to smuggle GMOs into the country using more permissible language..
"The Bill is titled The National Biotechnology and Biosafety Bill but as it stands does not provide for biosafety, which is a much broader and more specific field and needs an independent law to cover all aspects of biosafety beyond GMOs," she says.
According to her, the CSOs want the bill to be named 'The Genetic Modified Organisms and Products Bill, 2016' so that "it actually reflects what is contained in it".
Ntambirweki adds that the Bill is also using a wrong definition of GMOs which talks only about modern technological change of genes but does not cover the most important differentiation between GMOs and other products, which is propagation of new or altered organisms using genetic engineering.
Even people like Patrick Luganda, the Executive Director of Farmers Media Link, who say they are neutral in the war for or against GMOs, have concerns.
"What I want is assurance that it's safe for the health of people, farming and the eco system," Luganda says.
Luganda says it is wrong to allow organisations like Monsanto to introduce GMOs so as to have the monopoly over seed supplies in Uganda. He also says the law needs to prescribe punitive sentences for any individuals involved in GMO research which goes bad. He says affected individuals and farms should also be compensated.
"Research into GMOs should also be done locally and not sponsored by foreign organisations which may have vested interests," Luganda says.
For now, the Chairman of the Parliament's committee for Science and Technology, Robert Kafeero Ssekitoleko (NRM, Nakifuma), says his committee is finalising its report.
"I am optimistic this time the Bill will pass because now many people have realised the problem of not having the law in place with all the different pests attacking our crops," Ssekitoleko said. The Minister for Agriculture, Animal Industries and Fisheries, Vincent Ssempijja was also optimistic that the Bill would soon pass into law.
"I can assure you the Bill will pass very soon," Ssempijja told The Independent on phone. It is not clear how Ntambirweki and her group can stop that.