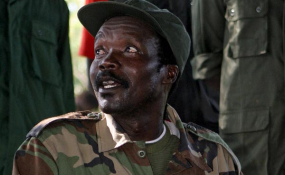 Photo: Daily Monitor
By Josephine Mosongo
Award-winning Hollywood actress Angelina Jolie marked this year's World Refugee Day in Kenya with a call to peacekeepers to prevent rather than perpetrate rape and sexual violence on vulnerable people.
"The reality is that women and girls, as well as men and boys, can still be raped with near-total impunity in conflict zones around the world," said Jolie at the International Peace Support Training Centre (IPSTC), Nairobi, on Tuesday. "There are still appalling cases of rape and mistreatment of vulnerable women and children and men by peacekeepers sent to protect them."
Jolie, who was in the country on humanitarian work as a special envoy for the United Nations High Commissioner for Refugees (UNHCR), visited 20 adolescent girls at Heshima Kenya Safe House.
REFUGEE GIRLS
The home houses refugee girls who fled home because of conflict and have suffered gender-based violence.
Afterwards, she observed a training session for military and police personnel involved in United Nations and African Union peacekeeping missions.
"It is true that these are a minority of cases but when abuses are carried out by peacekeepers, as you know, it destroys the very purpose of peacekeeping, which is to protect civilian life," said Jolie, however, also highlighting the fact that peacekeepers as well are at the forefront of the fight against sexual abuse.
TRAUMATISED
She added: "The reality is that a peacekeeper may be the first person one of those traumatised girls encounters after their abuse.
As peacekeepers, you need to be absolutely clear what to do, because that girl will be frightened, especially of a man with a gun."
She told the peacekeepers that how one approached such a girl would determine her recovery or more damage to her.
FILM DIRECTOR
Over the years, the actress, who is also a film director, has dedicated her efforts to fighting rape and sexual abuse in conflict zones and war-ravaged regions.
Jolie began her work with the UNHCR as a goodwill ambassador carrying out numerous field missions from 2001 to 2012.
In April 2012, she was appointed special envoy after years of service.
That year, she co-founded the Preventing Sexual Violence Initiative with former Foreign Secretary Lord William Hague of Richmond.
Through it, more than 17,000 military and police personnel have been trained on sexual violence.