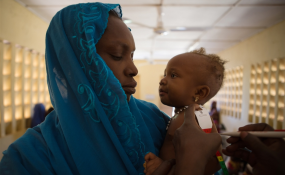 Photo: Tanya Bindra/IRIN
Nutrition International, formerly known as the Micronutrient Initiative, is launching a new health scheme for women, adolescent girls and newborn and young children to be known as the 'Right Start Initiative' to improve their nutritional status, all covered under a 4.7bn/- (2.8 million Canadian dollars) investment over the next five years to the year 2020.
Supported by the Government of Canada, the programme aims at reducing anaemia, neonatal mortality, as well as the number of low birth weight newborns. It also seeks to reduce stunting in children under five years.
The five-year project will target Mwanza and Simiyu regions and reach over 130,000 pregnant women with WHOrecommended iron and folic acid supplementation, more than 90,000 newborns with a package of interventions at birth, 94,000 adolescent girls with weekly iron and folic supplementation and nutrition education and up to 366,000 children under two years old with nutrition services.
This will be the largest programme to be implemented by Nutrition International in Tanzania since the organisation opened its country office in Dar es Salaam in September 2016.
"This initiative is very relevant in contributing to our current national development agenda. I would therefore like to express my support and thanks to Nutrition International and the Government of Canada for bringing the Right Start Initiative in Tanzania, being among the few countries chosen in Africa," said the Minister for Health, Community Development, Gender, Elderly and Children, Ummy Mwalimu.
"This will inevitably make a significant contribution to our country's efforts in fighting malnutrition, but also building a strong workforce to support our national industrialization agenda."
President and CEO of Nutrition International, Joel Spicer said they were looking forward to working with governments and partners to support Tanzania in its efforts to improve nutrition, especially for women and girls.
"We believe investing in nutrition is investing in the future. Well-nourished adolescent girls are better able to get an education. Well-nourished women have safer pregnancies, healthier children and are more productive members of the workforce. Well-nourished infants and young children are better able to fight illness and have a better chance of becoming contributing members of society," he said.
Tanzania is making some progress towards reaching the World Health Assembly targets for stunting and wasting.
However, it is off course to reach the anaemia targets, with 45 per cent of women of reproductive age suffering from it and 57 per cent of pregnant women.