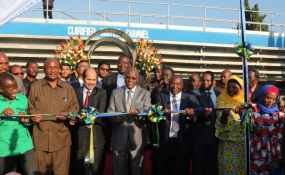 Photo: Fadhili Akida/Daily News
By Katare Mbashiru
In what can be termed as a replica of a directive he issued to the Tanzania Electric Supply Company Limited (TANESCO) three months ago, President John Magufuli has ordered the Dar es Salaam Water and Sewerage Company (Dawasco) to disconnect water from all government institutions with outstanding bills amounting to 40bn/-.
In the same vein, the President directed Dawasco to seal loopholes that result in loss of water, denying availability of the precious liquid to people, revenue loss, and insisted on equal performance between Dawasco and the Dar es Salaam Water and Sewerage Authority (Dawasa).
Addressing a well-attended rally in Mlandizi on his second leg of a three-day working tour of the Coast Region, Dr Magufuli remarked: "I am always very open, all long-term defaulters should no longer be tolerated, even if it is my office - State House, disconnect them."
He spoke few minutes before inaugurating a multi-billion project for expansion of the Upper Ruvu Water Treatment Plant.
The visibly annoyed Head of State insisted that there was no time for business as usual, hinting that all government institutions had enough budget as well as votes for other charges (OCs), meaning, they were capable of settling their outstanding debts that according to the Minister for Water and Irrigation, Engineer Gerson Lwenge, had ballooned to 40bn/-.
"Some will challenge me if we should even cut water from hospitals and my answer is yes, because I know that they have money for that," he said.
He warned Regional Commissioners, District Commissioners and District Executive Directors that should electricity be cut in their duty stations, they risk losing their jobs for negligence.
In his report to the President, the Minister said the accumulated debt had derailed various operations and projects in the ministry, adding that due to that it had even failed to clear its debt with TANESCO amounting to 8.7bn/-.
However, in his response, the President warned that those who will fail to settle their dues with Dawasco will have their money allocated for recurrent and development expenditure in the next fiscal year chopped by the treasury and paid directly to the water body.
He also directed the Minister to make sure that the 8.7bn/- that his ministry was yet to settle with TANESCO should equally be paid, and if not settled he will equally deduct it from the ministry's budget and disburse it to the state-owned power utility firm.
"There have been instances where you find officials prioritising foreign trips, workshops, trainings and seminars outside Dar es Salaam Region that cost the government huge sums of money, while they have not yet paid their water and electricity bills,"he stated.
Dr Magufuli asked responsible authorities in the ministry to deploy a group of auditors who will re-check the debt to see if it is realistic as there were unscrupulous officials within DAWASCO who were inflating bills for their own interests.
"There is a group of officials who sell water to clients with the money ending into their personal accounts that I also know... "If I were the Minister I would have acted accordingly, but now I am tasking the minister to work on these officials," he remarked.
Despite expressing satisfaction on the expansion of the 39 million US dollars (over 78bn/-) Ruvu Juu water treatment plant that was sponsored by the Indian government soft loan channelled through the Exim Bank, Dr Magufuli further tasked DAWASA to increase pace on the implementation of the Lindi water project that has been there for a long time.
He, however, was not happy with how DAWASA and DAWASCO were discharging their duties, advising that the two bodies should sit down and see how best they can work to reduce unnecessary costs that were being spent by DAWASA, that at some point remained in office without working when there were no water projects running.
He also suggested that it was not healthy to have two boards overseeing the two organisations that were discharging similar jobs. In yet another abrupt move, the President asked DAWASA Chief Executive Officer (CEO), Engineer Archard Mutalemwa, to retire from public service, saying it was high time for him to quit.
The embattled CEO has served on his position for over thirty years. "I started hearing your name when I was still in secondary school and I want to be frank, you should step down before you encounter bad issues," he said, adding, in Kihaya tribe"Obwato Bufa Magoba" (Literary meaning a boat often sinks when it is almost reaching the end).
"I have all your data, that is why I am speaking in a polite language ... I understand that the Minister is your friend and you have been a friend to all ministers, but this is the time for you to quit and leave the position to younger ones," he added.