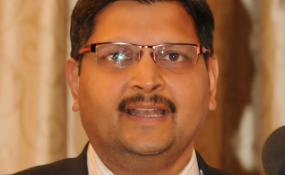 Photo: Atul Gupta
analysis
By Marianne Thamm
With the costly, UK-based PR spin doctors Bell Pottinger paid-up and shipped out, South Africa's First Family, the Guptas, scrambled to find a replacement spin machine after damning revelations of their involvement in the capture of ministers and government officials, gleaned from #GuptaLeaks, began to be made public last month. Soon afterwards, several websites and Twitter accounts relating to "White Monopoly Capital" were launched and used to attack some of the Guptas' biggest opponents. Scorpio has identified one man associated with this fake news - former Gupta-owned Sahara Computers employee Saurabh Aggarwal. By SCORPIO.
The Gupta spinners of the dark arts have consistently targeted anyone outside of the warm embrace of the family. From amaBhungane's Sam Sole to Trevor Manuel, from former editors Peter Bruce (Business Day), Ferial Haffajee (City Press) to former Public Protector Thuli Madonsela, ANC Deputy President Cyril Ramaphosa, EFF leader Julius Malema and auditing firm KPMG, the Gupta bots have launched a crude, amateurish and relentless attack that appears to be modelled, in part, on Bell Pottinger's earlier blueprint of fake Twitter profiles which retweet propaganda and fake news in an endless loop.
Some of the accounts created are so obviously fake they would be funny...