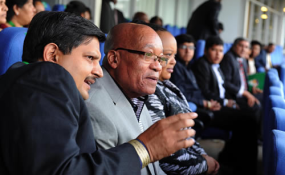 Photo: The Presidency
The attorney for the infamous Gupta family on Wednesday said he had written to his law society, asking it to investigate him without delay after a certain "perception" was created in the media.
"People don't like it when I act for the Gupta family and obviously try to apply pressure. The nonsense they wrote in the media created a perception I wanted to address," Gert van der Merwe told News24 on Wednesday.
"I insisted that they [the law society] do an investigation without delay."
Van der Merwe was speaking out after an Eyewitness News report last week identified him as a former accused, now State witness, seeking indemnity in a R16m fraud and corruption trial.
The case involves former Limpopo Health MEC Miriam Segabutla and businessman Johnny Lucas. The politician is accused of taking kickbacks from the businessman to secure tenders in 2010.
According to the report, Van der Merwe was said to have outlined in an affidavit how he had laundered money through his attorney's trust account between the parties.
"I think the article that appeared was misleading and was to create the perception I am involved in mischievous conduct," he said on Wednesday.
"One should not forget, this is an old matter in 2010 where charges were withdrawn [against me] when I gave my explanation."
Law society probe
It emerged that both Van der Merwe and the Democratic Alliance had written to the Law Society of the Northern Provinces following the report.
DA justice spokesperson and MP Glynnis Breytenbach on Wednesday shared a written response she had received from the law society's disciplinary head Maggie Malatji, addressed June 20, 2017, which confirmed the probe.
Malatji said the management committee had resolved to conduct an investigation at a meeting a week ago.
Breytenbach said the DA looked forward to the findings.
"If the investigation should prove that Van der Merwe has failed to meet the high ethical standards expected, the DA will push for him to be struck off the roll," she said.
Where a member was found not to have followed the rules of professional conduct, a disciplinary committee could impose a fine not exceeding R100 000 or issue a reprimand, the law society website states.
It could also recommend to the council that the member be struck from the roll of attorneys, or be suspended from practicing.
Source: News24