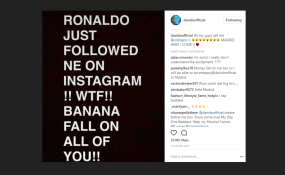 Photo: Davido/Instagram
By Dorcas Daniel
'If crooner, Davido is super excited that Real Madrid's Cristiano Ronaldo followed him back on instagram.
Davido who couldn't hide his excitement reacted with a post captioned, "All my guys call me @cristiano !!MADRID HERE I COME!!"
He even shared the snap of the follow and his readiness to switch from Chelsea to Real Madrid.
Davido who has 4.3million followers on instagram is currently the 376th person followed by Cristiano who has over 105 million followers as fan.
All my guys call me @cristiano !! 😫😫😫😫😫😫😫😫 MADRID HERE I COME !! 😈