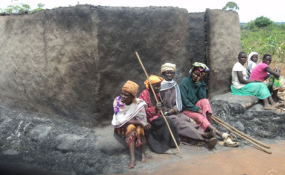 Photo: Patrick Okaba/Daily Monitor
By Moses Kyeyune
Parliament — The quest for justice for victims of the recent Apaa land clashes remains a subject for debate after government and lawmakers from Adjumani and Amuru districts gave a conflicting account of the matter.
Whereas government through Dr Chris Baryomunsi, the minister of State for Housing, put the number of the dead at eight, Mr Anthony Akol, the Kilak North MP, in a separate report to Parliament, said the number was 11.
Dr Baryomunsi also said 23 people had been injured and admitted at St Mary's Hospital Lacor in Gulu District but Mr Akol put the number at 28. "I want to stress to the minister that facts, must be put right," said Mr Akol.
Dr Joyce Moriku, the State minister for Primary Health Care, who visited Lacor Hospital, told Parliament that the number of people admitted was only 17.
"The facts on the ground from Lacor are that all people who were admitted were 17 and not 21, I have the list," she said.
Another contention was on the number of people displaced by the clashes.
Dr Baryomunsi put the total at 4,658 people but Mr Akol said 7,000 have been displaced.
Caught between emotions and conflicting submissions, Speaker Rebecca Kadaga called for a solution to help the victims.
"There are many people stranded out there, and all they need is a solution to go back home," she said.
Away from the unmatched figures, all sides called for calm in the conflicting communities, but also stressed the need for justice to be done.
"Government strongly condemns the violence that led to death, injuries, displacement of people and loss of property," said Dr Baryomunsi.
"Government has instituted investigations to establish who incited the people and the perpetrators will be brought to book irrespective of their status," he said.
He also encouraged cultural and religious leaders to undertake peace and reconciliation processes.
Mr Akol asked government to ensure a peaceful resettlement of the people, by resolving the Adjumani-Amuru conflict.
The First Deputy Prime Minister, Gen Moses Ali, who has since denied participating in the clashes, told Parliament that whoever is held liable must face prosecution.
"I am ready to go to Luzira, and so should be any body found guilty of inciting violence, inciting one community against the other," he said.
Ms Winnie Kiiza, the Leader of Opposition in Parliament, accused government of watching as one group of people waged war against the other.
Meanwhile, Mr Mwesigwa Rukutana, the deputy Attorney General, cautioned that the conflict if uncontained, may escalate and asked government to intervene as soon as possible.
He cautioned leaders against using tribal sentiments while discussing the Adjumani-Amuru border conflict.