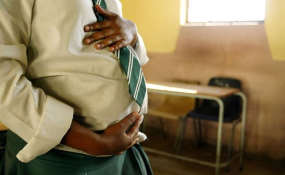 Photo: Daily News
By Anne Robi
A local non-profit civil society organisation (HAKIELIMU) has launched a campaign aimed at hastening achievement of the 'girl child education' as well as emphasizing on the need for pregnant schoolgirls to attend schools after childbirth.
HakiElimu Executive Director John Kalage said yesterday in Dar es Salaam that the campaign comes in the wake of many challenges that hinder the majority of girls from achieving their long-term education goals.
"The challenges include among others environmental, traditions and financial constraints that set obstacles on the right to education for the majority of girls in this country," he said.
The five-year campaign to be conducted in 127 villages across the country would also focus on emphasizing the need for the government to speed up the enactment of a law to allow pregnant schoolchildren attend classes after childbirth.
"We (HaKiElimu) deem education as a right to every child including pregnant schoolgirls ... being pregnant does not confiscate right to education for that particular girl child," he said.
He said expelling the pregnant pupils is an abuse of the girls and their innocent new born-babies. Mr Kalage said that 2015 statistic; indicate that 3,690 school-girls in Primary schools in Tanzania fell pregnant.
"The girls were expelled from school due to pregnancy and thus cutting off their dreams of achieving their right to education," he said and insisting that the government has the obligation to en sure the girls resume classes by speeding up the enactment of the law on forcing the developments.
Defending the movement of the law to ensure the pregnant girls resume schools, Mr Kalage said that the majority of the girls trapped under the menace were due to external environmental factors including sexual abuse and those who were lured due to various life challenges.