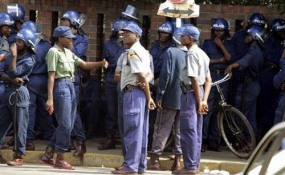 Photo: MDC
Rusape — Armed riot police Thursday stormed Lesbury Farm, 26 kilometres west of here, and threw out white farmer Robert Smart to make way for Bishop Trevor Manhanga.
Two journalists, Garikai Chaunza and Frank Chikowore, who were covering the event, were arrested and detained for five hours in the process. Inspector Nyakwedza forced the two scribes to delete pictures of the eviction from their phones.
However, more than 15 000 villagers in Chief Tandi area who invaded the farm in order to prevent the eviction of Smart vowed to stay put saying they will never allow Manhanga to move in.
They also vowed to occupy four more such properties including one occupied by Zanu PF youth leader, Kudzanayi Chipanga.
Situated 26 kilometres west of Rusape, Lesbury Farm was recently acquired by government.
The eviction came a day after Justice Loice Matanda-Moyo on Wednesday reserved judgment in a case in which the Zanu PF linked cleric, Manhanga, is being barred by Chief Peter Tandi from occupying Lesbury Farm.
Manhanga was due to occupy a part of the farm on 1 June.
The leader of the Tebarnacle church was allocated the farm alongside the two contesting Tandi Chiefs who have been in the area since the 1930s.
However one of the contesting chiefs, Peter, last week filed an urgent court application with the High Court seeking to bar Bishop Manhanga from occupying the farm.
In his argument, Peter said the government should not allocate the farm to anyone who is not from Rusape as doing so works against the Tandi clan's traditional values because of the existence of the graves of their ancestors.
The other farms which the villagers want to resettle themselves in because "we have not benefited from the land reform since 2000", are Stabs, Adams, Divorce and Wakefield, occupied by Chipanga.
According to the disgruntled villagers, these farms were recently acquired by government from white commercial farmers and given to known Zanu PF officials and sympathizers including Chipanga.
"The Tandi community and Headland constituency are following what President Robert Mugabe said when he said no individual should invade any farm, but we are seeing local farms being continuously invaded by politically connected individuals who come from other areas and this is happening at a time the locals are still staying in mountains and barren land," Samson Magumura, the leader of the disgruntled villagers told New Zimbabwe.
"So, what we have agreed upon as locals is that we are now going to take those five farms and allocate land to ourselves," said Magumura.
He added, "We are at Lesbury Farm and that one we have already taken it and no one is going to take it from us and from there we are going to Wakefield Farm which was recently invaded by Chipanga of Zanu PF because we were told by President Robert Mugabe together with the former State Security minister Didymus Mutasa, that Wakefield farm was going to be developed into a university which would cater for our children but now we are surprised to see Chipanga occupying it alone."
The villagers said Manicaland Provincial Affairs minister, Mandi Chimene, refused to give them an ear over the issue.
"There is no government office which we have never been to including Vice President Phelekezela Mphoko to whom we sent Chief Peter Muchatisi Tandi, to see.
"Mphoko gave us three different dates but could not come and we believe he was blocked by minister Chimene from attending to our issue. So we are left with no choice but to take the land for ourselves," said Magumura a day before the eviction of Smart.
Gilbert Mutare, a local headman, said the land issue was being politicised.
"These five farms should be given to the community who can decide on either to lease them to the former white commercial farmers or to use them than giving the same to a few unproductive politically connected individuals.
"I am saying so because all the people occupying all the farms in Headlands are not from anywhere near Rusape and we the locals have not benefited," said the youthful chief.
Contacted for comment, Chimene said she was not willing to talk to New Zimbabwe because "you insult people" and "use vulgar language".