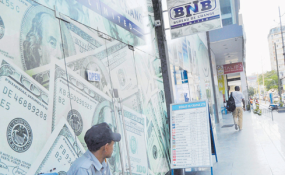 Photo: Omar Fungu/The Citizen
By Syriacus Buguzi
Dar es Salaam — The Bank of Tanzania (BoT) has issued new licensing measures to Forex Bureaus operating in the country in a fresh bid to strengthen the foreign exchange market.
In a statement issued on Wednesday, BoT said it has revised the minimum capital thresholds for all Bureau de Change and increased its non-interest bearing deposit.
"Minimum capital thresholds have been revised from Sh100 million ($50,000) to Sh300 million ($150,000) for class A. For class B, the capital threshold has been raised to Sh1 billion, up from the current Sh250 million," said BoT's statement.
"The non-interest bearing deposit has been increased from $50,000 to $100,000," added the statement.
The new capital levels were scheduled to take effect three months from June 2, this year as per Government Notice 223 issued on June 2.
In this new move, all existing Forex Bureaus have now been directed by the central bank to comply with the new measures, including applying afresh for licensing within the next three months.
BoT has also suspended new licensing of Bureaux de Change until further notice in what it says is a measure to assess the existing bureaus.
"No person shall become a shareholder, director, a member of the management or staff in more than one Bureau de Change," says BoT in its directive signed by Mr Augustino Holay and Mr Eliamringi Mandari, under the bank's Directorate of Banking Supervision.
"At least two-thirds of the required minimum capital should be in form of cash as working capital," adds the statement.
In another fresh move, all forex bureau outlets will now be fitted with CCTV cameras in all strategic areas including teller cubicles, says BoT.
Every shareholder, director and Heads of Branches is required to fill the Proper Person Form and authenticate the source of funds invested in the Bureau de Change, says the central bank.
"Every Bureau de Change is required to fill and submit the Premices Apiness Checklist," it says further.
BoT has also encouraged the Forex Bureaus to merge to ensure smooth operations. It also suggested that Bureaux de Change can be acquired by another.