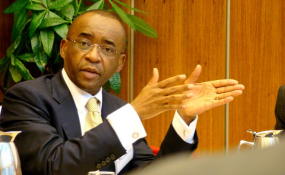 Photo: The Financial Gazette
By Herbert Moyo
FOOTBALL lovers in Lesotho and other African nations are set for a feast of Union of European Football Associations (UEFA) action on the Kwesé Sports television channel after Econet Media signed a four-year deal with UEFA to broadcast the UEFA EURO 2020 finals as well as the preceding qualifiers in all Sub-Saharan African countries excluding South Africa.
The deal will enable Kwesé Sports to give soccer fans exclusive access to more than 1 000 UEFA matches free-to-air (FTA) in Africa as well as non-exclusive rights to broadcast on pay-tv across Sub-Saharan Africa.
Kwesé's broadcast rights include live matches, delayed matches, highlights, on-demand programming as well as localised review programmes to UEFA fans across Africa.
A Cristiano Ronaldo-inspired Portugal won the last edition of the UEFA EURO tournament which was held in France in 2016 and they will certainly face stiff competition when they defend their crown in the 2020 which will be staged in 13 different European cities in different countries as part of the 60th anniversary commemorations of Europe's top national-team competition.
In addition to the 2020 Euro Championships, Kwesé Sports will also broadcast UEFA's new tournament featuring the continent's top ranking footballing nations in a new league format.
The UEFA Nations League which kicks off in the 2018/2019 season is set to add further excitement and gloss to the international rivalries that have enthralled many a football lover over the years.
Speaking about the new latest developments, Econet Media President and Chief Executive Officer, Joseph Hundah said, "As a pan-African broadcaster with the largest FTA sports channel, we pride ourselves in providing exclusive content".
"It goes without saying that soccer is one of the continent's most loved sports. By making the very best sporting action available to our viewers through our world class sports offering which includes Kwese Free Sports, KS1, KS2 and ESPN, we are fast becoming Africa's premium sports destination," Mr Hundah said.
For his part, Guy-Laurent Epstein, the Managing Director Marketing at UEFA Events SA said "UEFA is delighted to welcome Kwesé Sports to the UEFA Broadcast Partner family".
"We look forward to working with Kwesé Sports who will bring UEFA's national team football portfolio to fans across Sub-Saharan Africa through their various platforms, both free-to-air and pay," added Mr Epstein.
Kwesé Sports broadcasts the best football action and events from Brazil, Spain and the English Premier League.
It also secured exclusive free-to-air rights to the 2018 FIFA World Cup.
Kwese TV was launched in Lesotho in May this year.
The Kwese TV network, which was brought to Lesotho by Econet Telecom Lesotho, is the brainchild of world-acclaimed Zimbabwean entrepreneur Strive Masiyiwa, who is founder and chairperson of the Econet Group communications giant.
Lesotho thus joined other African countries where Kwese has been launched, namely, Botswana, Ethiopia, Ghana, Kenya, Malawi, Namibia, Nigeria, Rwanda, Swaziland, Tanzania, Uganda and Zambia.
Kwese TV services comprise a bouquet of TV broadcasting channels offering news, sport, children's and general family entertainment.
Deriving inspiration from the Shona word kwese which means 'everywhere,' Kwese TV is "premised on the concept of TV everywhere and anywhere" in Africa.
The television's major selling points centre on the provision of high quality viewing from the ever-popular English Premier League soccer, National Basketball Association (NBA from major sports channels like ESPN), major news networks (including Sky News, France 24, Al Jazeera, and Bloomberg Television) to movies and children's programming.
In addition to the conventional digital satellite, the affordable TV network can also be accessed on the internet as well as mobile phones and tablets which enable viewers to access content everywhere and anywhere.
The bouquet comes standard with over 50 channels including entertainment, news and sports channels plus two Free-To-Air channels that include the Kwese Free Sport channel.