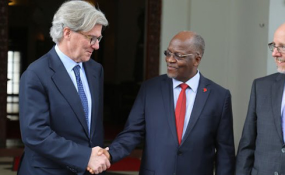 Photo: The Citizen
column
By Alfred Sebahene
I heard last week that discussions between JPM and Prof John Thornton, Barrick Gold Corporation Executive Chairman, was not only extensive, but very productive. I think it is true; spot-on because unlike the previous engagements in contracts between our fellow citizens and Barrick, this time the moral concept of win-win situation came out flamboyantly loud and flawlessly clear.
We have to wait though for this to happen, even though there is every indication that, as one commentator puts it, JPM fire has pulled Acacia out of hiding.
So, win for Tanzania, win for Barrick is what is anticipated here. From what we were told by Prof Osoro, Acacia Mining evaded tax and occasioned loss amounting to trillions of shillings to the government. But this time we have been assured that, unlike all those years of sneaky business with us, Barrick Gold Corporation - Acacia's largest shareholder -- is now ready to negotiate and pay the dues. This is not only a moral U-turn, but negotiations will seek to benefit all parties.
Let's be appreciative. From Barrick's side, it was quite an initiative. Prof Thornton flew by his private jet all the way from Canada to Dar es Salaam. A rare chance was given to him so he held talks with President Magufuli and in the presence of Canada's High Commissioner to Tanzania, Mr Ian Myles and on JPM's side was the Minister for Constitution and Legal Affairs, Prof Palamagamba Kabudi.
By coming to the table at Magogoni for negotiations following the second report of Prof Osoro, and the fact that someone had come to help resolve the problem, and with an optimistic spirit that things will go well this time, it may imply that, the first negotiations were null and void, because from what the reports suggests, it sounds they had come prepared to crush us at all costs - even if it means using stealth, deception and manipulation to get what they want. I may be wrong though.
But why is the win - win situation being considered now? Does it mean that when they came sometime over a decade ago, we the host party, were unprepared or naïve counterparts? Did our representatives find it difficult to accept the idea that these people can be cunning, devious and ruthless? When John said I feel good about the progress today what did he mean? There are so many questions that needs answers here.
A warning voice is needed here. We should not be moving fast in trusting them. We should be vigilant enough of the risk as well! This I insist because every negotiation involves the human elements of trust, emotions, subjectivity, language and collaboration. The idea of a win-win can be very appealing but needs skill to achieve. Win-win is a positive negotiating stance focused on constantly trying to build value by making positive moves in the negotiation that can also benefit the other side; but only if they 'work with you'!.
As we cherish new positive development on the upcoming negotiations, we should remember that there can also be a win-lose situation. We want to warn both parties not to focus on obtaining power over the opposing party. Both parties should not treat the other as an enemy and try to use power to bully the other side into a losing position.
In my view, a win for Tanzania and win for Barrick forthcoming discussions is nothing else than high-stake interaction. I say this because Tanzania side will enter the negotiation room already feeling embittered, resentful and bitter - and for a long time.
Even JPM himself could not hide his disappointment, distress, and anguish during the brief press conference. I recall him saying: Prof Thornton do you want me to take you to Muhimbili National Hospital to see the suffering of my people? Should I take you to the streets of Dar es Salaam for you to see the misery and wretchedness of my people?
Dr Alfred Sebahene is a lecturer at St. John's University of Tanzania.