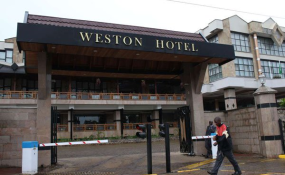 Photo: Jeff Angote/Daily Nation
By Lillian Mutavi
Nairobi Governor Evans Kidero has ordered an investigation into the cholera outbreak at Weston Hotel as a statement from an expert indicated that the source of the bacteria was "external".
Dr Joseph Aluoch, who was the chairman of the Conference Organising Committee, on Friday suspected that the "packed lunch, which contained fish", may have been contaminated with the cholera bacteria.
HEALTH CONFERENCE
The victims, 33 in total, who are admitted in various Nairobi hospitals, were part of the 500 delegates drawn from different nationalities who were attending the 4th Kenya International Scientific Lung Health Conference that began on Thursday.
"During the conference, some people developed severe vomiting and diarrhoea and general ill health.
"This happened almost immediately after a meal on Tuesday. Almost all those who ate seemed to have been affected even those who only came to the conference on Tuesday when it was being opened," Dr Joseph Aluoch said.
But the ministry of Health laid blame on food poisoning.
EMPLOYEES' RECORDS
Speaking at Kawangware Coast PAG church on Sunday, Dr Kidero said that the incident was unfortunate.
"Recently we had an international conference and we have seen a lot more conferences coming in the city in the last three years.
"This case of cholera was rather unfortunate and we [are] following the [lead] that the food served was from outside," the governor said.
The county will also verify the records of the hotel's staff.
"We will check the records of the people working at Weston because this is a public health requirement that everybody must go for a medical exam and get necessary vaccination twice a year," Dr Kidero said, adding that a report will be ready in two days and those found to be culpable will be punished.
COUNTY BLAMED
Dr Kidero also defended his government from accusations hurled by the Kenya Medical Association (KMA), which said the administration has failed in its mandate.
A statement from KMA read: "We note further that primary health care falls squarely under the ambit of county governments under the devolved system of government.
"And express our great disappointment at the failure of these governments to strengthen this important area of health."
Governor Kidero said that the city's reputation is dependent on the safety and health.