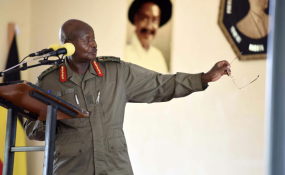 Photo: Daily Monitor
opinion
By Dr Jimmy Spire Ssentongo
On Wednesday last week, we held a dialogue at Uganda Martyrs University (UMU) on the theme 'Age Limit Debate: The Bumpy Road to 2021' - organised by the German organisation Friedrich Ebert Stiftung, in partnership with UMU's department of governance and peace studies.
The day's presenter, Dr Busingye Kabumba from Makerere University's Law School, was unsurprisingly articulate and reflective. It is unfortunate that the time we would have spent discussing and working towards improving the well-being of our people is consumed by age limit debates.
But, for hungry people, it is understandable why it would be important to discuss a visibly-tired cook that doesn't seem ready to leave the common kitchen. It becomes even more perplexing to be ignored in a context akin to that of the proverbial snake in a cooking pot. If you try to hit it, you might as well break the pot and not eat. But you won't eat either by leaving it!
That is how the nation finds itself at this subject now, just as we were at the term limits one before the ugly events of 2005 when several of our gluttonous legislators malignantly got possessed by the spirit of Judas Iscariot. Perhaps, if it wasn't for that tragic betrayal, we wouldn't even be in such anxiety now.
For the thirty silver coins that was the price of their tiny hearts, we are still paying, and still helplessly aware that they are not yet done selling! By the look of things, they won't end at selling their souls; they will even offer its shell and shadow in exchange for our future.
It is in this consciousness and with the aid of historicising how we got into this national entrapment that Dr Kabumba appeared to draw a grim picture of what we should expect.
In his pessimistic prediction, there is everything to show that the age limit clause will go and, come 2021, at least two faces on the ballot paper are likely to be the same as those in the previous four elections. What we call democracy in Uganda is just a façade for keeping up appearances. Behind this delusional masquerade is a military autocracy facilitated by a party caucus that operates like a puppet show with one puppeteer holding all the strings.
Apart from me, other discussants were Ambassador Samuel Baligidde, a lively retired career diplomat working with Uganda Martyrs University; and Mr Eric Sakwa, the deputy resident district commissioner of Kumi district.
One of my questions to Kabumba was that, if we shouldn't expect much in the current socio-political configuration, then what next? He had earlier used an analogy to say that some of our expectations of this government are like those of rats captured by a cat that later asks them to determine what it should do with them. It will eat them anyway!
My question then; what choices are the rats left with? To ask to at least be eaten decently? No, his view is that the rats should refuse to be deceived of a choice yet there is actually none.
What we should be working for is a different kind of set up where real choice is a possibility, hence the need for discussions like this one with a group of practitioner students of democracy and development studies and local governance and human rights.
It is here that Mr Eric Sakwa, who had expectedly sounded irritating most of the time, finally made a point in passing. That perhaps we should think of reducing the powers of the presidency. This takes us back to our dilemma; would that be possible with this kind of parliament whose majority read from the gospel according to Judas Iscariot? Well, it is us who send them there anyway!
This is what took us into revisiting Plato's mistrust for democracy; that it risks degenerating into ochlocracy (rule by a mob). All its merits notwithstanding, democracy is built on a fallacy of appeal to majority. In this vein, Ambassador Baligidde noted that we don't need much illustration to know that the majority are sometimes terribly mistaken.
But if a good-willed and knowledgeable majority can be mistaken, how about a greedy and, often times, half-baked majority? How about a desperate majority prone to manipulation? How about the danger of populism?
In 1947, Winston Churchill told the House of Commons that "... many forms of government have been tried, and will be tried in this world of sin and woe. No one pretends that democracy is perfect or all-wise. Indeed, it has been said that democracy is the worst form of government except for all those other forms that have been tried from time to time".
Maybe no one pretends that democracy is perfect, but several pretend to be democratic and to be right on the basis of the pretence. In reality, what we have may not exactly be an autocracy, but neither is it a democracy - it is a hybrid.
When the audience got the microphone, the bitterness in their comments and questions was almost tangible. I did not envy Mr Sakwa, and neither was I sympathetic. Like the lizard that pushed its head into a beehive, he positioned himself in fire's way by claiming that Uganda is so democratic that it had even started 'exporting democracy' to other countries. This was after he had said age limit was of no importance!
Unfortunately, desperation tends to lead us into extreme thoughts. This is how one young man rose up to express disappointment with nature for being slow to respond to 'our prayer'.
"Just look at Mugabe and others, they are not dying!" he said. I don't think we should wish our president death. Besides, that could trigger off a worse power struggle. But it's absurd that a leader sticks around until their people start appealing for nature's intervention.
The author works with the School of Postgraduate Studies and Research at Uganda Martyrs University, Nkozi.