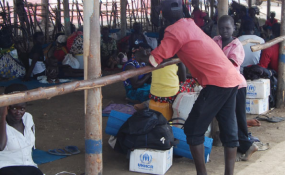 Photo: Cissy Makumbi/Daily Monitor
By Jonathan Kamoga
Rebels fighting the South Sudan government in the southern parts of the country are recruiting fresh fighters from among refugees in different camps in northern Uganda, The Observer has learnt.
The rebels promise recruits better pay and lives. In multiple interviews on June 22 with refugees in Bidi Bidi refugee camp in the West Nile district of Yumbe, many said rebel agents from the Sudan People's Liberation Army in the opposition (SPLA-IO) move from camp to camp targeting mainly youths in new settlement zones. Some of the youths are reportedly tasked to convince their peers to join the rebel ranks.
"They normally come in plain clothes driving a land cruiser and they say they are fighting for SPLA-IO. Last week, two of my friends were taken but I refused. They told me that I should think about it," Taban Juma, a refuge, said.
Bidi Bidi is now Africa's largest refugee camp as of March 2017, housing more than 270,000 refugees out of the 1.2 million living in the country. Joseph Amule, the Refugees Welfare Chairperson (RWC) of Bidi Bidi zone three (a position equivalent to a village chairperson), confirmed the recruitment, saying his office receives regular complaints about the illegal recruitment.
"I am not sure about the numbers but it is not only youth that are being taken. Even grown-up males are being recruited," Amule said.
Interviewed on Saturday, Brigadier Richard Karemire, the army spokesperson, told The Observer by telephone that the army is monitoring the situation.
"We are looking at coordinating with the camp's administration to see that these illegal activities should not take place. We would not want refugees to engage themselves in something that is not in their mandate," Karemire said.
FOOD, WATER CRISIS
Amule said the current food crisis in his zone makes refugees susceptible to recruitment.
"We don't have enough food. It is two months now since we were served food. So many of these young people will fall for anything if it is for their survival," Amule said.
Two months ago, refugees would be given 12 kilogrammes of maize flour or sorghum flour monthly, per head but this was reduced to six kilogrammes, which are also not delivered in time.
Similarly, the zones used to receive three trips of water a day but these have also reduced to one. The refugees also complained about the small pieces of land they are given. They say they cannot grow food to supplement their monthly rations.
"The plots are small for both a house and a garden. Even when we are to have a garden, we wouldn't plant because we don't have seeds. Many of us want to pack our bags and go back to Sudan and die fighting rather than die of hunger here," David Kepop said.
A representative of the United Nations High Commissioner for Refugees (UNHCR), who declined to be named, said delays in delivery and reduction of food amounts are caused by the increasing number of refugees that pour into the country daily, stretching the demand for the few resources available.
Uganda currently receives 2,000 refugees from South Sudan daily. During the just-concluded Solidarity Summit for refugees in Kampala, donors pledged at least $358 million (Shs 1.2 trillion) to support Uganda's efforts to host refugees.
However, the government says it needs at least $2 billion to deal with the recent influx of refugees.