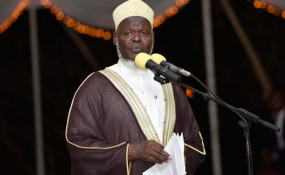 Photo: Daily Monitor
By E. Kasozi and Sadat Mbogo
Kampala — Government has been asked to spend less money on security and focus more on the social wellbeing of Ugandans.
While delivering Eid al-Fitr message at Old Kampala, the head of Uganda Muslim Supreme Council, Mufti Shaban Mubajje, said instead of spending millions of dollars to buy weapons, government should allocate the money to feed refugees and encourage peaceful means of solving conflicts
"The money being spent on buying weapons should be used to address poverty. Money should not be spent on buying weapons that shed innocent people's blood," Mufti Mubajje said. He challenged the Muslim youth to desist from acts of violence and misleading information on social media.
"Not everything that is said on Internet is good or true. There is a lot of information about Islam on the Internet. Not whoever posts understands Islam. Much of the messages on Internet are misleading and you should ask your leaders to get the truth," Mufti Mubajje said.
At Wandegeya Mosque, Sheikh Muhammad Kizza, asked believers to pray for the people of Amuru and Adjumani where eight people so far died following land clashes.
"As we celebrate Eid al-Fitr, let us continue praying for our people in Amuru District so that peace can be restored to the area where lives have been lost and majority of people displaced. Such calamities can only end if we ask Allah to intervene through prayers," Shiekh Kizza said.
Museveni message
President Museveni, in his congratulatory message to the Muslim community, said government has guaranteed freedom of worship and should not be misused.
At Kibuli Mosque Sheikh Sulaiman Kasule Ndirangwa, the Supreme Mufti, decried the rampant land conflicts in the country occasioned by land grabbers, saying it is a threat to national security.
Prince Kassim Nakibinge, the titular head of the Kibuli-based Muslim faction, preached against violence.
"The Saudi press two days ago, announced that they had foiled an attempted attack on the people of Mecca. All this points to the lawlessness of the people and these are all evil acts. We call upon all brethren to come together and we stop these acts of terrorism and insecurity," said Prince Nakibinge.
In Nakaseke, Sheik Muhamud Ssebuliba who led prayers at Kyambogo Masjid, told the Muslims to embrace government development projects in their respective area.
In Kabale District, Sheikh Kabu Lule warned the Muslim youth against "indecent dressing", saying the habit is against the laws governing Islam.
At Twahahid Mosque in Kisenyi, Imam Mohammad Abduweli asked believers to continue with their good deeds like helping the needy, praying and giving out to remain good citizens in the country.
In Tororo, district Khadhi Sheikh Ibrahim Asante Ragang appealed to Muslims to embrace peaceful co-existence with other people in order to realise development.
Sheikh Ragang also challenged believers to engage in income generating activities to be able to support their families.
In Soroti, Acting district Khadhi, Muhamed Asman Ocen told believers to invest in education of their children.
Soroti Resident District Commissioner, Isaac Kawoya also explained that investing in education of children is a remedy to address the language barrier for the Muslim community to attain development.
Ntungamo Woman MP, Beatrice Rwakimari asked Muslim women to do regular medical checkups for the opportunistic infections like cervical cancer and diabetes which have proved stubborn and killing many women in the district currently.
Ntungamo District Khadi Sheikh Swaleh Kashangirwe asked Muslims to realise peace and tolerances as exhibited during the Holy month of Ramadhan.
With Joseph Omollo, Joseph Eigu Onyango, Robert Muhereza, Tom Brian Angurini, Amos Ngwomoya, Perez Rumanzi.