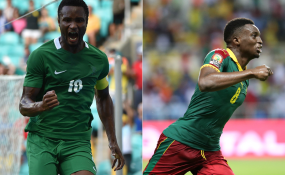 Photo: allafrica.com
Former Nigeria international, Etim Esin, has played down the Indomitable Lions of Cameroon's poor outing at the 2017 FIFA Confederations Cup in Russia, positing that they still remain a formidable side.
African champions Cameroon, were ousted from 2017 FIFA Confederations Cup after losing 3-1 to world champions Germany in their last Group B game on Sunday.
The defeat was their second in the group after initially losing 2-0 to Chile and drawing 1-1 with Australia.
Despite their lacklustre performance in Russia, Esin who was a member of the Super Eagles team that lost 1-0 to Cameroon in Yaounde in their last group game during the 1990 FIFA World Cup qualifiers, advised that the Super Eagles must present their best players for August's 2018 World Cup qualifier in Uyo.
"For me, Cameroon are still a side to reckon with despite their poor outing at the Confederations Cup, I think the Confederations Cup has served as a platform for them to prepare for the game against the Super Eagles," said Esin.
"From what I saw of Cameroon at the Confederations Cup, they were physical. And the only way the Eagles can overcome them is to make sure our experienced players are available for the World Cup qualifier.
"The Eagles need players who will use their experience to subdue them because if we hope to present the same players who lost to South Africa, they will be out-muscled by this physical Cameroonians."