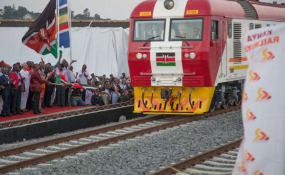 Photo: Daily Nation
Large Chinese companies operating in Kenya want the public to know that they are doing good, operate on principles and want to help Kenyans and be model partners for communities.
That was the message from the launch last Wednesday of a Chinese Enterprises in Kenya corporate social responsibility report by the Kenya China Economic and Trade Association (KCETA).
China's ambassador to Kenya, Dr. Liu Xianfa, said this was the first such report ever commissioned by a group of Chinese companies operating in any country in the world.
He added that a World Bank report had stated Chinese companies operating in Kenya have an average of 360 employees, compared to 147 for other foreign companies here, and that media "should tell Kenyans and the world about female drivers on the standard gauge railway (SGR) trains".
The KCETA report highlights the efforts of 73 large companies to achieve partnership milestones with Kenyans. They include cultivating local talent and management, transferring technology, responsible business practices and working with communities.
Not harming the environment or wildlife, such as the way the Standard Gauge Railway built bridges and tunnels to mitigate against trains encountering wildlife in the parks, is also an important part of their efforts.
There is another angle to this. Unlike historical foreign relationships that young Kenyans only read about in school textbooks, such as Kenya's foreign policy engagements with Britain and the United States or South Africa and Russia, this history is being made right now.
SPORTS STADIUMS IN THE EIGHTIES
The KCETA report notes that China is now Kenya's largest trading partner and while the first Chinese enterprises came here to build sports stadiums in the 1980s, Chinese enterprises are now contracted for over 50 per cent of the infrastructure projects in Kenya.
The enterprises are also increasing their influence, transforming from contractors to investors and from constructors to operators.
The 2017 Economic Survey notes that Kenya now owes China Sh313 billion in debt to be repaid, and Kenya imports Sh337 billion from China but only exports Sh10 billion back. The relationship is already skewed, and is going to get even more so unless local companies here start to readjust.
The ambassador said that at the recent Belt and Road Summit, China and Kenya decided to upgrade their bilateral relationship to a comprehensive strategic partnership
But the imbalance is not sustainable and Chinese companies, with their government, seem to be becoming the diplomats who explain how they are integrating positively in a win-win way for Kenya's economy, not just China's.
YOCEAN GROUP
So this is a new phase of Chinese companies in Kenya, showing they have had a massive impact.
Wu Yi and other road companies have built the Thika Highway and many cross-country highways between Mombasa and Marsabit. Now China Road and Bridge Company has built the Standard Gauge Railway, infrastructure that will transform rural Kenya and local trade.
These projects have generated thousands of jobs and dozens of local subcontracts in many projects. Another company here, Yocean Group, started out by repairing Kenya electricity transformers when they broke down. Now Yocean designs and builds transformers here in Kenya.
Notice for the report had been signalled at a separate media briefing, when Huawei Kenya explained their zeal to excel in the world of communications and that they try to combat the impression that Chinese products equate with low quality. Huawei was the largest filer of patents in the world in 2015.
Huawei powers phone networks for Safaricom and Telkom Kenya's telephone network, which has improved service and coverage as they supply affordable smartphones.
Download the KCETA report here.