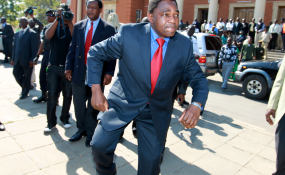 Photo: Zambia Reports
By Peter Adamu
Incarcerated UPND president Hakainde Hichilema will come face to face with State House press aide Amos Chanda in the contempt of court charges that the latter faces.
On June 13 Lusaka Magistrate Felix Kaoma summoned Chanda, Daily Nation proprietor Richard Sakala, and Religious Affairs Minister Godfridah Sumaili for contempt of court charges after a complaint from Hichilema and five others facing treason charges.
The contempt charges are based on complaints by Hichilema and five others over a story that appeared in the Daily Nation headlined 'HH acted foolishly' that the newspaper published on June 1 quoting President Lungu's press aide who appeared on an Al Jazeera 'The Stream' Programme on May 30.
Chanda is quoted as having said "... there was no witch-hunt in the arrest of Mr Hichilema as the predicament he faced was purely out of his recklessness and foolish behaviour of endangering the life of the President even after power sirens signalled the coming of the presidential motorcade."
Hichilema and his co-accused contend that the comment was libellous and exposed him to ridicule and hatred.
Hichilema is facing treason charges and has been n custody since April 11 when he was bundled away by police after a raid on his house.