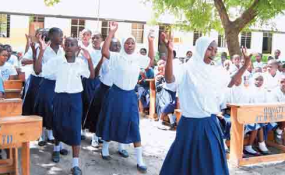 Photo: The Citizen
analysis
By Esther Kibakaya
School girls who become pregnant will not be allowed back into public schools after giving birth, President John Magufuli said last week.In recent month, the government has been under pressure from some MP's and activists to let teen mothers resume their studies after giving birth.
During debate on the 2017/18 budget estimates of the Ministry of Education, Science,Technology and Vocational Training in Parliament last month, the Social Services committee and the Opposition urged the government to allow teen mothers back to school. Reading the committee's speech,Mr Hussein Bashe said allowing young mothers resume formal education would break the poverty cycle. Former First Lady Salma Kikwete, now a nominated MP, was particularly vocal in shooting down the suggestion.
Praising the former First Lady for steadfastly opposing the proposal, President Magufuli said she did well to oppose the idea of letting teen mothers continue with their studies. He said those who wanted young girls to resume their studies after giving birth should build their schools.
"Allowing teen mothers back into public school we will be encouraging more girls to engage in pre-marital sex, this way we will destroy this nations," said President Magufuli.
While President Magufuli's stand on teen mother may discourage the efforts made by development campaigners, there are positive stories of teen mothers who have managed to turn their lives around after they were given an opportunity to go back to school. One of them is a fifteen-year-old *Melody Kili, a teen mother whose life has changed for the better.
Born and raised in Kilosa, Morogoro, she is also a victim of empty promises that were given to her by a woman who promised her grandmother that she would see her through school.
"I come from a poor family, I never had a chance to go to school until one day a lady who was a family friend and a neighbour in our village came to visit and when she saw me she ask my grandmother if she would allow me to go back to Dar es Salaam so that she could take me to school, I was happy though my grandmother was hesitant. However after she saw how excited I was and she was assured that I would be safe , she agreed to let me come to Dar es Salaam," she recalls.
Upon arriving in Dar es Salaam at just the age of eight, she was told her job would be to raise the child of her boss and do other house chores . "She completely dismissed the idea of me going to school and whenever I raised the issue I ended up being punished. At that time, I was capable of playing with the child but working as a maid was hard because of my age," she explains.
She stayed with her boss until she was 12 years old before being lured by a man who lived close by their house. "I was young and often mistreated. This guy who was our neighbour saw how my life was and offered to help.
He told me I could use his place as he was always on transit, he was a truck driver travelling in neighbouring countries and it took him days to return. I felt safe but this all changed a few months later when he told me that he could no longer take care of me for free since I was not his relative. He forced her into sexual affair which led to her pregnancy at the age of 12. The man went scott-free. Melody, whose child is 5-year-old never knew what a class looks like, but now is in standard 6 after attending MEMKWA program in 2014. With President Magufuli's order, some officials are now banning MEMKWA from accepting teen mothers.
"I am happy I now go to school. I can read and write, I now don't feel left out by the rest of the world. I don't feel discriminated against at all. I see myself becoming a lawyer in the near future because nothing can stop me now. I will have an opportunity to use the law to ensure that girls' rights are observed," she says.
"And as young woman, I believe we can be whatever we want to be so long as we are given chances, the important thing is to trust ourselves," she speaks.
Melody is among many young girls whose lives were under risk because of early pregnancies as they become vulnerable to poverty and exclusion, and their health often suffers. According to the Basic Education Statistics Report 2016, at least 3,439 secondary school students dropped out in 2015, while the number of primary school dropouts was 251. United Nations Population Fund statistics shows that every day in developing countries, 20,000 girls under age 18 give birth. This amounts to 7.3 million births a year. And if all pregnancies are included, not just births, the number of adolescent pregnancies is much higher. *Not real name