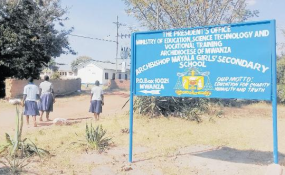 Photo: Geoffrey Kamani /The Citizen
By Geofrey Kimani
Kwimba — The schoolgirls chatter, compare homework and shuffle to class just like other teens, but there is something, which make them different.
Most of them became pregnant and were offered a chance to continue with their education at Archbishop Mayala Secondary School in Ibindo village, Ngundu ward in Kwimba District.
The school was established in 2010 by Rev Fr Ibrahim Ngassa under Nyambiti Parish to offer a second chance to schoolgirls who dropped out due to pregnancy.
During the period, the school enrolled 65 students in Form One.
The school's acting head teacher, Shija Mayenga says that Fr Ibrahim realised that many impregnated schoolgirls around the area failed to continue with their education after giving birth.
The school also support learning for children coming from poor families.
He says most of those who get pregnant twice according to Fr Ibrahim were neglected by the society and not offered a second chance to continue with their education.
According to him, most girls who got pregnant and enrolled at the school are from poor families and never chose to get pregnant adding that some were even raped.
"Most of the girls are lured or even bribed to have sex with immoral men," he said.
"Most of the teen mothers at the school are orphans, or with single parents or from divorced families," he said
"But the move to accommodate pregnant teens does not mean that Fr Ibrahim did condone early pregnancy," he said adding that...
"The teen mothers are monitored and those identified to be immoral are sent away," he said
He explained that many of the teens are forced to get married early or join prostitution due to poverty after giving birth.
He noted that the aim of the school is to ensure that the teen mothers do not miss out on education just because they got pregnant and never got a chance to continue with their education after birth.
He says that the school offer the teen mothers an environment where they can learn without being prejudiced.
However, he said that the school later started enrolling students who have not given birth and that the school currently have 576 students.
According to him, not all teen mothers are supported with education freely but basing on the economic status of the family.
For his part, the first teen mothers were enrolled in 2010 and most of them passed their Form Four exams in 2013.
About 31 students managed to sit for the Form Four national examination out of 65 who enrolled in Form One and 19 of them passed their examinations where I student attained Division 2, 5 got Division 111 and 14 got Division 4.
During the year 2014, 38 students sat for the Form Four national examination where 38 passed their national examination where 1 student attained Division 1, 10 Division 11, 10 Division 111 and 16 Division IV.
The year 2015, 42 students sat for the Form Four examinations and they all passed.
Mr Mayenga noted that during 2015, 2 students attained Division 1, 9 Division 2, 27 Division 3 and 6 Division 4.
However, he says that he is opposed to the idea of exclusive schooling for pregnant girls, saying it does not provide a solution to the problem.
Just last week, President John Magufuli said that schoolgirls who become pregnant would not be allowed back in public schools after giving birth.
He warned Non-Governmental Organizations (NGO) advocating for teen mothers education.
Reacting to the President's remarks, the school's academic master Leonard Matovu says that teen student mothers feel comfortable while with other teen mothers at school.
"They feel they are of the same category and with similar experiences, a condition that makes them comfortable at school," he said.
Case study
Commenting on the learning behaviour of the teen mothers, he says that they are attentive and hardworking because they know that they have a child to take care for.
He gives a case study of his kin who was impregnated while in Form Two who was earlier denied the chance to go back to school.
After several counselling, the girl was taken back to school in 2010 and she excelled in her education and is currently is a nursing officer.
Meanwhile, he said that the government should improve the country's education system to ensure girls enjoy equal access to quality education.
Agneta James, 25 from Maligisu village in Kwimba district got pregnant while in form four at Maligisu Secondary School in 2007.
After giving birth in 2008, her could not afford to take her back to school.
Agneta later got pregnant during 2012 while still at home and she gave birth in 2013.
She says that her uncle who was paying for her school fees stopped.
"My father was not able to pay for my school fees and I had to stay back at home," she says
But she said that her father learnt about Archbishop Mayala School and luckily secured a chance.
She told Success that she decided to start afresh in Form One in 2014.
"My dreams of becoming a nurse are now valid because education is the key to success and women who are educated are always active family members," she said
For her, the opportunity to continue with her education has made a huge impact in her life.
"The rejection that came with getting pregnant and the immediate end of my school and poverty had marked an end to my future," she said.
She says that the government should introduce a re-entry policy that requires all schools to grant girls maternity leave and readmit them to facilitate girl's education.