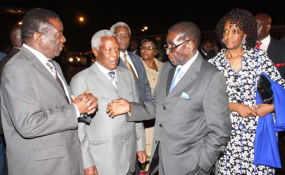 Photo: The Herald
Zimbabwe's ex-freedom fighters have reportedly lauded "courageous" Minister of War Veterans Tshinga Dube for openly telling President Robert Mugabe, 93, to name his successor.
Tshinga recently urged Mugabe to name or groom his successor in-order to put a stop to the continued factional fights in his ruling Zanu-PF party.
"There is nothing wrong with talking about the succession. Succession is not a crime to talk about. This happens in every country. All what the war veterans are saying is that he must groom the next leaders so that whatever happens to him, or when he retires there is somebody we know," Dube was quoted as saying.
According to NewsDay, the leader of the 1970s liberation fighters, Christopher Mutsvangwa, said he felt vindicated when Dube openly challenged Mugabe to name his possible heir.
"We salute the daring courage of minister Dube and urge all progressive Zimbabweans to embrace the succession debate in an open and robust manner for the sake of the future of the proud nation," Mutsvangwa was quoted as saying.
Dictatorial tendencies
Two distinct camps have emerged in Zimbabwe's revolutionary party in recent years, as factions seek to outwit each other in the race to succeed Mugabe. Vice President Emmerson Mnangagwa is allegedly leading a faction that is angling to succeed Mugabe calling itself "Team Lacoste", while another grouping made up of young Turks, commonly known as Generation 40 and backing First Lady Grace Mugabe to succeed her ageing husband, wants to torpedo Mnangagwa's presidential ambitions.
Although both Mnangagwa and the First Lady have publicly denied harbouring presidential ambitions, the ructions in the revolutionary party have now become synonymous in Zanu-PF politics.
Several war veteran leaders, including Mutsvangwa were expelled from Zanu-PF in 2016 following a rare public rebuke against Mugabe's "dictatorial tendencies".
The former combatants had also accused him of presiding over a declining economy.
The veterans, normally staunch allies of Mugabe, vowed at the time that they would not support him if he sought re-election in 2018.
News24