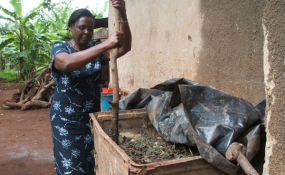 Photo: Fred Nambede/Daily Monitor
analysis
By David Mafabi
You have heard stories of the many things that urine can do; treat diseases, hangover and whatever else. But do you know what magic it could do to your farm?
Jennifer Wasieba from Sikusi Village in Manafwa District has substituted the use of compost manure with human urine to fertilise her gardens and since she started, she says her crop and vegetable yields have been impressive.
As I arrive at her home, Wasieba is stirring her organic manure; a mixture of cow and goat dung, green plants, ash and urine brewed for two weeks. This is a mixture she hopes to use to treat her bananas in order to increase and better her produce.
The farmer says cattle and human urine is rich in nitrogen, which plants desperately need and that commercial fertilisers boost plant growth.
"Commercial fertilisers can harm the environment if they get into lakes and streams and not all farmers in rural Uganda can afford to buy fertilisers," she says.
She notes that farmers in Bugobero have been using urine on their crops for long, adding that unlike commercial fertilisers, urine is free, abundantly available and does not seem to have any harmful effects on the environment.
According to Dr William Wogoire, the director of National Coffee Research Institute in Kituza, Mukono District, if human urine can be turned into liquid gold--as composting material, it would provide the best nutrients the crops require.
He added, however, that urine should be supplemented by organic manure and modern methods of farming to boost large scale farming.
The benefits
Wasieba says she has already made great fortunes from banana production and that this has changed her from subsistence production to commercial.
In just one season, she has harvested about 100 bunches of bananas from her improved garden and sold them each at Shs25,000 thereby making a seasonal income of Shs2.5m. This, she says, has enabled her pay fees for her children, dependents and meet other household demands.
By using urine on her farm, Wasieba says she has been able to control diseases such as nematodes, Fasanum wilt and bacteria wilt.
With the help of government's Operation Wealth Creation, Wasieba has been able to secure another 700 banana suckers which she has already planted and from these, she expects to reap not less than Shs10m a year.
But probably the greatest benefit for Wasieba is becoming a model banana farmer: "I have taught people how to use urine to better their crops and fight pests and my target now is to kick start banana farming for commercial purposes," she says.
The beginning of this journey wasn't easy though, as many traditional farmers were reluctant to adopt the use of urine as a fertiliser.
The urine Wasieba uses is collected from her home, cattle and school pit latrines, whereas the compost is sourced from cow and goat manure.
Advice
Dr Wogoire advises farmers to rear poultry, goat and cattle to provide raw materials for manuring their gardens.
"Not because banana farming gives them little money, but because they need to get free dung and urine, and chicken droppings for the banana gardens," he says.
Wasieba revealed that in a bid to ensure better quality and quantity production of bananas, she digs a hole (3feet deep by 2feet wide), fills in the manure (a mixture of green plants, cow and goat dung, chicken droppings and urine brewed for two weeks) and leaves it to decompose for a month before she puts the banana suckers or tissues.
Power of urine
Scientists say urine is so effective because of the several factors that work together, for instance, a mixture of compost and urine decreases the amount of nitrogen lost in the soil while making more carbon for the plants.
Urine contains nitrogen, phosphorus and potassium -- essential plant nutrients that are usually mined from the earth or the air for agricultural use.
Caution to farmers
Felix Kasharira, an agronomist, says for use on lawns, trees and bushes, and for the compost pile, urine only needs to be diluted one litre to five litres of water. He adds that for gardens, one litre to eight litres of water is minimum, and diluting it one litre to 15 litres is better, especially if it is to be applied over bare ground as opposed to mulch.
How to use it
Human urine is almost perfectly sterile, unless the person it came from has a urinary tract infection. However, do not apply it on crops that will be harvested in a couple of weeks.
And when using urine as fertiliser, apply it to the soil around the plant, do not apply it to the plant leaves.
Dr Wogoire says for plants such as carrots or sweet potatoes that are impossible to fertilise without getting urine on the plant, first dilute the urine solution, apply, then use water to rinse it off the leaves.
Dr Wogoire urges farmers to keep the mixture of animal manure and human urine under cover especially during these times of climate change mitigation: "Animal manure is said to be among the leading sources of nitrous oxide, which is one of the three deadly global warming gasses."