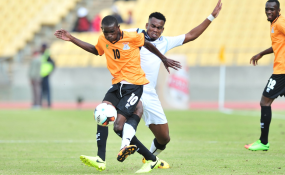 Photo: Cosafa
By Peter Adamu
Under-20 sipper Solomon Sakala says he is elated by the Chipolopolo call up for the 2017 Cosafa Castle Cup.
And Chipolopolo stand-in-captain Donashano Malama says that the team has set the target of winning the Cosafa Castle Cup.
Speaking to Fazfootball.com, Sakala who is one of the five U-20 players summoned to senior team duty said he was mindful of the stiff competition but will work hard to earn a place in the squad.
The latest inclusion is Nkana midfielder Boston Muchindu who has also made the team.
"I am encouraged by the call up to the senior team, I just want to work hard," said the 2017 U-20 Africa Cup winning skipper.
The Napsa Stars defender said that the U-20 calls ups were hoping to add value to the senior set up.
"We want to add value to the team. I will work hard for the position, competition is high I just have to work hard," he said.
The five U-20 stars called to senior duty are Sakala, Conlyde Luchanga, Moses Nyondo, Muchindu and Emmanuel Banda who is doubtful after having recently signed for a Belgian side.
And Malama said his troops were hoping to lift the 2017 Cosafa Castle Cup.
"The preparations are okay, we are working hard to ensure that we win the tournament," he said.
"In every work there is pressure, sometimes it is just how you are going to take that pressure to make you perform better."
Malama said that the team was mindful of the fact that there would be no push overs at the tournament that kicked off on Sunday.
"Almost every team has improved, we just have to work extra hard and ensure that we make our nation proud. We have set the target of winning the tournament," he said.
The Cosafa Castle Cup enters day four today with Zambia exempted from group matches and will enter the fray on Saturday with a quarterfinal tie against Botswana.
2017 COSAFA CASTLE CUP
SCOREBOARD AND FIXTURES
SUNDAY
25/07/17
Tanzania 2-0 Malawi
Mauritius 0-1 Angola
26/07/17
Mozambique 0-4 Zimbabwe
Madagascar 2-0 Seychelles
27/07/17
Malawi 0-0 Mauritius
Angola 0-0 Tanzania
28/06/17
Zimbabwe vs Madagascar 17h00 Royal Bafokeng Sports Palace
Seychelles vs Mozambique 19h30 Royal Bafokeng Sports Palace
(Source: Fazfootball.com)