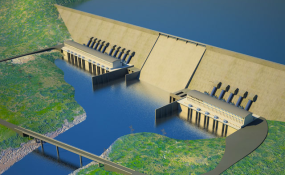 Photo: http://africanarguments.org
By Deogratius Kamagi
Dar es Salaam — Despite concerns from environmental experts on the construction of an hydroelectric power dam at Stiegler's Gorge in Selous Game Reserve, yesterday President John Magufuli met with a team of experts to discuss it's implementation.
According to a press release issued by State House yesterday, the meeting was part of the implementations of the government's plan to end power shortages in the country.
The dam will be constructed in Morogoro along the falls of Rufiji River. The plant will be able to produce 2,100MW. During the meeting, President Magufuli told the experts that Ethiopian Prime Minister Hailemariam Desalegn would send team of experts, who constructed the biggest hydroelectric project in Ethiopia for an exchange programme. "Tomorrow (today) Ethiopian Prime Minister will send a team of experts for an exchange programme. They will be able to share their experience. I want us to be fast on this project so that we can be able to produce enough power for industrial use," he said.
Recently, German Ambassador to Tanzania Egon Kochanke was quoted asking the government to reconsider the implementation of construction activities within the SGR, saying they would bring negative impacts on the ecosystem.
He made the statement during the launch of the Selous Ecosystem Conservation and Development Program. "The government should reconsider several projects within the SGR such as hydroelectric power production at the Stiegler's Gorge, Uranium extraction at Mkuju and Kidunda Dam water production as they will negatively impact the SGR ecosystem," he said.