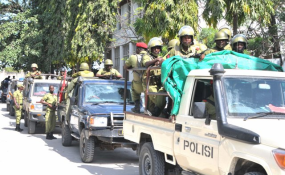 Photo: Daily News
Two people have been shot by unknown assailants in what seems to be continuation of killings of innocent people in Kibiti, Coast Region.
This time the assailants targeted local officials in Mangwi village in Mchukwi ward in Kibiti District.
Reports from the scene identified those who were shot as village executive officer, Mr Shamte Makawa and village chairman Mr Khamis Mtima.
The assailants also gorged Mr Maiko Nicholaus's eyes.
The two civic leaders were shot on Tuesday night.
Reports say that the assailants set ablaze the houses of the victims after the shooting.
Coast Regional Police Commander, Onesmo Lyanga, has confirmed the reports He said a team of police officers and investigators has been dispatched to the scene of the shooting.
About 37 people have so far been killed in Kibiti, Mkuranga and Rufiji Districts in Coast region since the killings started in earnest two years ago. Most of those who have been killed are local leaders and 13 policemen.