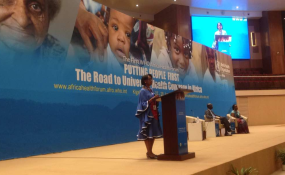 Photo: WHO
Prime Minister Anastase Murekezi has called on African countries to join hands in ensuring healthy equity and Universal Health Coverage (UHC) towards improving the lives of citizens across the continent.
Premier Murekezi made the call today while delivering a keynote address at the inaugural World Health Organisation (WHO) Africa Forum taking place in Kigali.
Themed " Putting People First: The Road to Universal Health Coverage in Africa," the forum aims to discuss innovative strategies on persistent challenges in public health on the African continent; and promote reinforced country ownership and governance for health.
Murekezi pointed out that the forum is in line with the implementation of one of the 17 Sustainable Development Goals (SDGs), SDG 3 that concerns "Good Health and Well-being" - calling on countries to ensure healthy lives and promote wellbeing for all at all ages. SDG 3 also matches African Union's Agenda 2063 'The Africa We Want', which targets healthy lives for all Africans.
"Rwanda set up innovative solutions such as Ubudehe, a home-grown system that assigns health support to our people according to their socio-economic status. Our country is now advancing towards Universal Health Coverage for its people," Premier Murekezi said.
He recalled that Rwanda achieved the Health Millennium Development Goals and gained recognition on a global scale for the multiple achievements.
The two-day forum brings together senior government officials, Finance and Health Ministers, representatives from UN Agencies, academicians, civil society players, philanthropic foundations, private sector and the youth.