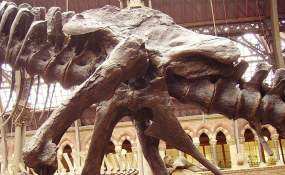 Photo: Ballista/Wikipedia
By Florence Mugarula
The government is not planning to bring back dinosaur fossils from Germany because the country lacks the capacity and technology required to preserve and display the remains for tourism purposes, the Deputy Minister for Tourism and Natural Resources, Eng Ramo Makani, told the National Assembly yesterday.
He said that at the moment planning to bring back dinosaur fossils is not in the interest of the government and that instead it is focusing on boosting other tourist attractions across the country.
He said the government will continue to push for benefit from the presence of dinosaur fossils in Berlin, Germany instead of struggling to bring them back into the country.
"It is obvious that we do not have technology to deal with this business. The technology is very expensive and Tanzania is not in a good position for that at the moment," he said.
According to Eng Makani his ministry in collaboration with the Ministry of Foreign Affairs and East African Co-operation have recently made a close follow-up on the matter and that the countries have agreed on various issues that will boost tourism in the country.
Germany has so far agreed to conduct researches in Tendaguru and neighbouring areas to see if there could be remains of other dinosaurs in the area. Moreover, the government of Germany has promised to establish a museum in the area so that tourism activities could take place and attract more tourists from various countries.
The government of Germany will be strengthening the history and archaeology department at the University of Dar es Salaam. "This will enable the University to train more experts in the area and thus boost the tourism sector in general," he said.
Mr Makani was responding to a query from Mchinga MP (CUF), Mr Hamidu Hassan Bobali, who wanted to know when the government will bring back dinosaur fossils from Berlin, Germany, to Tanzania.
The MP also wanted to know when the gov ernment would construct a road and supply water to Manyangara Village where the dinosaur once lived.
"I would like to know when the government will improve social services in these areas including construction of road and reliable supply of water so that tourists who want to see the area where the dinosaur fossils were found could reach the area easily," said Mr Bobali.
He added that last year, at least five tourists from abroad showed interest in visiting the area but failed due to poor roads. Eng Makani said the government through his ministry is doing everything in its power to improve infrastructure and boost the tourism sector.