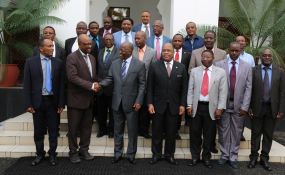 Photo: State House/Daily News
By Rodgers Luhwago
President John Magufuli yesterday dismissed as groundless criticisms against the eagerly awaited Stiegler's Gorge Hydropower project, saying the mega scheme will cover only three per cent of Selous Game Reserve.
Some ecologists are up in arms, opposing the envisaged power project, which they say will subject the world heritage game reserve to irreversible damages.
Dr Magufuli, speaking to Ethiopian team of experts in electric engineering and hydroelectric dam construction in Dar es Salaam, said: "I'm quite aware of impediments that will emerge on the course of executing this project ... I kindly request Tanzanians to remain united, with one voice. This project will cover 1,350 square kilometres, only three per cent of the Selous Game Reserve's 45,000 square kilometers."
He told the Ethiopian Minister of Irrigation and Electricity Seleshi Bekele led delegation that the project will have other spill-over advantages, including fishing, irrigation and water supply for wildlife animals.
"Currently the country generates 1,450 megawatts of electricity but Stiegler's Gorge will produce 2,100 MW to support the country's industrialisation drive. So, we are indeed committed to implementation of this project," a statement from the Directorate of the Presidential Communication quoted the Head of State as saying.
He said the team from Ethiopia arrived in the country to share experience with its Tanzanian counterpart charged with the responsibility of executing the super project.
Dr Bekele said Ethiopia was now generating 4,300 megawatts of electricity from hydro sources, hinting that Addis Ababa envisages 17,000 megawatts by 2020. He affirmed his country's keenness to cooperate with Tanzania in the endeavour.
Chief Secretary (CS) John Kijazi and Deputy Minister for Energy and Minerals, Dr Medard Kalemani, also attended the talks. When Ethiopian Prime Minister Hailemariam Desalegn toured Tanzania last April, he, among other things, promised to dispatch a team of experts to help in the effecting of Stiegler's power project.
Earlier, the Minister of State in the Vice- President's Office, Union and Environment, Mr January Makamba, told the 'Daily News' that all environmental concerns related to the 2,100 MW Stiegler's Gorge hydroelectric project execution will be taken care of.
"There have been several studies on this mega project carried out in the 1970s and all of them suggested mitigation measures. We hope nothing will go wrong," Mr Makamba said, adding: "It is clear to all that this is a huge power project that may bring about some environmental challenges. But, people should understand that the project will be expertly executed with mitigation measures put in place."
The minister explained that there were other similar projects implemented in other parts of the world that proved to be beneficial to their respective countries. The minister, however, said it was in the government interest to ensure that the Great Ruaha River continued to flow even after implementing the project.
Some conservationists raised concerns last Monday following the government's declaration on the development of the hydro power dam on Rufiji River, claiming that the project will cause irrevocable damages to Selous game reserve.
Remarks made by International Union for Conservation of Nature's World Heritage conservation officer, Remco Van Merm, claiming that the project will have severe consequences on the ecosystem, went viral this week.
According to the conservationist, the negative consequences the project was likely to bring about include inundation of significant wildlife habitat, particularly the critically endangered black rhinoceros, as well as a heightened risk of poaching and other illegal activities due to increased human activities.
"The dam is likely to have significant negative impacts on downstream land uses, commercial fishing, agro industries and the livelihoods of local communities," Mr Van Mermo was quoted as saying in his remarks.
During his working tour in the Coast Region last week, President Magufuli announced plan to build the Stiegler's Gorge dam to increase power generation and supply to boost industrialisation drive in the country.