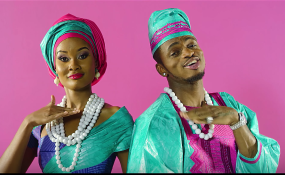 Photo: The Nation
By Thomas Matiko
Diamond Platinumz has denied ever dating or impregnating top model and the star of the video of his mega hit song "Salome" Hamisa Mobeto.
For months now, the blogosphere has been awash with rumours of the two being ex-lovers.
The musician has also slammed Hamisa for keeping silent about the issue instead of coming out and naming the man responsible so as to end this rumour that seems to be sweetening day by day.
FOND OF CLAIMING THEY SLEPT WITH HIM
According to Diamond, showbiz women in Tanzania are fond of claiming they slept with him in order to gain popularity.
In a recent interview with Tanzania's Clouds FM, Diamond said that this is an issue he and his wife Zari Hassan have been accustomed to.
He said: "Unajua stori ya vitu hivyo wanawake kuja kila siku nishazizoea, hata mama T (Zari aka Mama Tiffah) kavizoea... Tangu itoke video ya "Salome" kulitokea mambo mengi kwamba mimi nimetembea na Hamisa ila ni stori za uwongo. Sijamweka ujauzito na sijawahi kuwa na uhusiano wowote nae. Lakini mbona naye si ajiokeze basi aseme nani mwenye mimba?
("My wife and I are used to such allegations. Ever since the "Salome" video was released, rumours about Hamisa and I hooking up started flying around. I never had a sexual relationship or any kind of relationship with her for that matter. But why didn't she come out publicly to deny the allegations about me getting her pregnant?)
Hamisa gave birth nine months after the shoot of Diamond's hit song "Salome", on which he collaborated with Rayvanny. This was the genesis of the rumour that has grown even stronger on the fact that Hamisa and Diamond's mother Sandra Naseeb are very close.