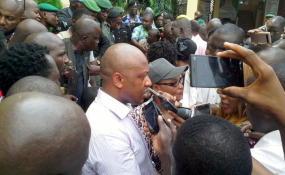 Photo: Premium Times
By Eugene Agha
Lagos — In a desperate bid to escape the hang man's noose, billionaire kidnap kingpin, George Chukwudumeje Onwuamadike alias Evans has dragged the Nigeria Police Force to court over what he described as his unlawful detention.
A senior police source disclosed that some members of his gang who want the matter charged to court before Police concludes its investigations have approached a Federal High Court to perfect his release.
The source said that those behind the latest move are afraid that Evans might expose them which might lead to their arrest and prosecution.
The source said: "The gang members on Wednesday hired a Lawyer who Sued Lagos State Commisioner of Police as well as the Officer in charge of the Special Anti-Robbery Squad ( OC SARS), Lagos Command. They are insisting that Evans Should be Charged to Court.
"Unknown to them, the Federal High Court last week Thursday gave order for Evans and his Gang members to be Remanded in Police Custody for three months. This is to Enable the Police Conclude all Investigations in Nigeria, Ghana and South Africa, so that all involved will be brought to book."
Evans was arrested on June 10, 2017 at his mansion in Magodo Estate, Lagos, by operatives of the Inspector General of Police (IGP), Intelligence Response Unit (IRT). He has led the police to his camp where he often keep victims u till ransom demanded is paid.
The illegal detention camps are located at Igando and Jankande estate, Isolo.