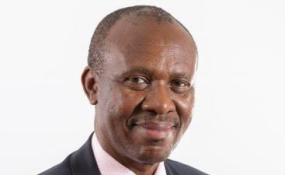 Photo: Moses Kgosana
By Amabhungane & Scorpio
The Guptas always denied that they were behind the infamous Vrede dairy project. Now leaked records show that public funds were laundered from the project via Dubai to pay for the family's showcase wedding.

By all accounts, the 2013 Sun City nuptials of the Guptas' niece, Vega, was a dazzling display of the family's wealth.
Except it was not.
The #GuptaLeaks reveal that the Free State provincial government largely picked up the tab for the "event of the millennium", as it was described by a guest, KPMG Africa then-chief executive Moses Kgosana.
"My wife and I were privileged to attend and enjoyed every moment and every occasion," Kgosana gushed in a thank-you note to Atul Gupta. "I have never been to an event like that and probably will not because it was an event of the millennium."
Surely, though, the long list of political and business figures attending the multi-day spectacular were not privy to the veiled source of funds.
Except KPMG's Kgosana should have been.
KPMG were the auditors of the Guptas' Linkway Trading (Pty) Ltd. This company, we shall see, played a crucial role in allowing the diversion of cash earmarked for the Free...