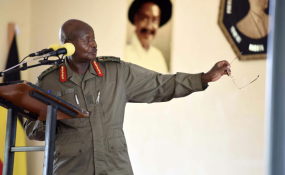 Photo: Daily Monitor
opinion
By Moses Khisa
Word has been on the grapevine for a whole year now: our ruler of three decades, General Museveni, is fully committed to clinging on beyond the current constitutional age cap of 75.
This is a most dangerous move for the future stability of our politics and viability of our nation. It is something whose import many Ugandans arguably do not fully appreciate.
Museveni's current term, adjudged by many Ugandans as illegitimate, ends in 2021, by which time he will be officially 77. He has previously told NTV's Patrick Kamara that he believes after 75 one is not able to execute the demanding duties of a head of state. But our ruler has proved to be adept at deception; so, it is perilous to take him by his word.
There are a few pointers in the direction of the plot to, once again, manipulate the Constitution to entrench life-presidency. For one, there has been a steady and singular determination to have a firm grip on parliament through constituency gerrymandering and using state resources to win every possible parliamentary race and manufacture an outrageously large majority in the House. A voting machine is needed to rummage through constitutional amendments.
The use of NRM as a vehicle for capturing MPs is interspersed with a nefarious project of systematically compromising opposition and independent MPs. Now, to talk about the NRM is in essence to refer to the state of Uganda because the NRM, as a political party, does not exist.
The foremost strategy has been to use the state, its coercive arsenal and financial muscle, to pack parliament with individuals that can be used as agents of perpetuating Mr Museveni in power.
Parliament today occupies a fundamentally contradictory place in our national politics. It has grown in its power, authority, and prominence as a site of national political contestation and elite accommodation. Thus, many MPs feel a genuine sense of empowerment and access to the national power centre.
Yet the composition of parliament makes it amenable to being financially captured by State House, blackmailed by those scheming for regime survival, and bullied directly by the Sabalwanyi himself.
Majority MPs are known to enter parliament heavily indebted and at the same time carrying the tag of having won because of wearing the NRM color. They have to service loans but also pay blind allegiance to the rulers in State House.
The upshot is that we have a parliament that is at once powerful and powerless; it appears to hold great potential as a national institution yet is most likely to flounder in the face of excessive executive power and cavalier schemes.
The Sabalwanyi has an easy and direct route to the life-presidency through parliament: he will dish out loads of money and employ intimidation when the need arises. It will be easy because he has assembled a herd of MPs who are vulnerable and can be blackmailed.
Not that he won't find a fight inside the precincts of parliament; there are a handful of intrepid opposition and independent-minded MPs who will likely put up a valiant fight in defense of the Constitution and the future of the country. It was the case in 2005 too when the term limit clause was deleted from the Constitution.
But the real fight to stop the despicable plan of perpetuating the Museveni regime through constitutional manipulation will have to take place outside parliament, among the people. And if there is any chance of success, the resistance must start now.
All Ugandans need to know that the longer one man stays at the helm of a country, the higher the chances of a terrible ending. The examples can be found all around the world. Beyond his current tenure, Museveni will at best leave unceremoniously and at worst chaotically.
The powder keg system built over the last three decades could well leave us with either severe social fragmentation or state disintegration. My hunch is that we might end up with both: a socially distressed, fragmented country and a collapsed state.
Our country has been heavily balkanized. Local governments are created along narrowly defined ethnic lines. Worse, the exigencies of clinging onto power have driven Museveni to preside over one of the most nepotistic regimes in the world.
The same demands for holding power have led to fragmentation of state structures and creation of competing power centers in security, civil service, and political leadership. Together with scheming for economic rents and the struggle for patronage spoils, you end up with layers of decay and dysfunction.
This can only get worse the longer one man stays at the helm: he is the chief beneficiary yet at the same time a hostage of the same system. He can neither reform it nor can the system change his management approach. The problem is much bigger than can be aptly summarized here. Ugandans need to wake up to the reality staring at us and the bleak future we are likely to confront.
The push to stop the age-limit project will require the ensemble of an emboldened civil society, a resolutely activist media and, most important of all, a mass of Ugandans spirited to reclaim the country and make a new order.
The author is the interim secretary, Society for Justice and National Unity, a Kampala-based think-tank.