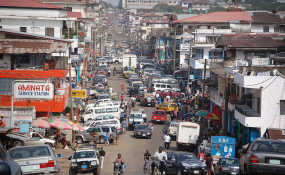 Photo: Erik Hersman
The Ministry of Gender, Children and Social Protection (MGCSP) condemns the circulation of a new 'sex-video' on social media exposing the privacy of a Liberian woman.
The ministry describes such video as disgraceful, uncivilized and said such video undermines the dignity of womanhood.
The ministry's investigation gathered that such recording was done long ago, but was released recently when the two reportedly engaged in a misunderstanding.
The Ministry sees the recording and subsequent exposure of said video as devilish, embarrassing and malicious. It is a serious violation of the privacy of womanhood.
In a release issued in Monrovia, the ministry indicates that the recording has the propensity to further present a negative picture of the dignity of Liberian women.
Meanwhile, the Ministry of Gender, Children and Social Protection is calling on the Ministry of Justice to immediately intervene by arresting the alleged perpetrator who is reportedly in the employ of the Ministry of Finance and Development Planning.