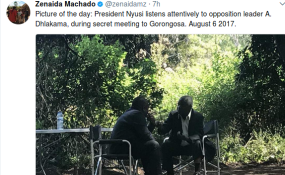 Photo: Zenaida Machado/Twitter
Maputo — Mozambican President Filipe Nyusi on Thursday urged the population of the western province of Tete to become involved in national reconciliation, in the framework of the dialogue under way with the rebel movement Renamo, aimed at achieving effective peace.
He was speaking in the town of Chitima, in Cahora Bassa district, during a rally that marked the first day of a three day visit to Tete.
At the rally, Nyusi was greeted with messages and songs calling for peace. Nyusi assured his audience "we are engaged in dialogue", referring to his telephone contacts with Renamo leader Afonso Dhlakama, which led Dhlakama to declare an indefinite truce.
"Dialogue, at all levels, is fundamental for peace", Nyusi said. "Peace does not depend on one group of people. It depends on all of us".
He urged his listeners to embrace the path of tolerance and reconciliation, so that the dialogue would indeed culminate in the establishment of effective peace.
Dhlakama has criticized the government for moving very slowly in the peace talks, and in the agreed withdrawal of government forces from positions in Gorongosa district near the Renamo camp where Dhlakama is currently living. Nyusi admitted there were delays, but said these should not be blamed on just one side in the conflict.
"We are in dialogue", he said. "It's true there are delays. It's a joint responsibility". He stressed that all Mozambicans should contribute to the search for lasting peace.
He also warned the public against unnamed individuals who were active in some parts of Tete province, inciting disorder and confusion, with objectives that were far from clear. Such individuals, he said, were even preventing children from going to school or from benefitting from other social services.
"This is a new war, a dangerous war, against which we have to be vigilant", said Nyusi. He said that these people mostly "do not work and want to create confusion among the population".
"They spend their time intimidating the population not to accept the messages of the government", he stressed. "They are creating destabilization among the communities".
This behavior, he said, was the work of certain religious sects. He did not name them, but there are known to be some fundamentalist Christian sects operating in central Mozambique which, for example, oppose vaccination as "against the will of God".
Speakers from the crowd at the rally praised recent improvements in living conditions, but also asked for more classrooms, improved access roads, expansion of the electricity grid to reach more localities in the district, and the provision of agricultural inputs to allow them to increase production and productivity.