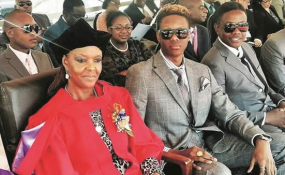 Photo: The Herald
By Tatenda Chitagu
The cavalcade of top-notch fuel-guzzling vehicles snaked through the usually serene and traffic starved city of Masvingo guided by police riders that cleared the road for President Robert Mugabe to cruise free of interference.
For a moment, hundreds of civil servants queuing to get their salaries at several banks lined up the streets to get a glimpse of the veteran ruler's bloated motorcade.
To the impoverished civil servants stranded at banks, the top-of-the range vehicles were like an oasis in a sea of poverty.
"We are struggling to get our cash here and some are living charmed lives. there is a disequilibrium," one of the depositors said in a hushed tone as Mugabe's motorcade sped past a road named after the veteran ruler.
The vehicles then made their way into Mucheke stadium, passing by the semi-detached houses of Sisk residential area.
Just a stone's throw away from Mucheke stadium, the venue of the youth "interface rally", is Mucheke -- one the of the oldest residential areas built long back by the white settler regime in Masvingo with houses that resemble domes, popularly known as "misana yenzou" due to the arch-shaped roofs.
"The opulence shown by the president is in stark contrast to the lives that people of misanayenzou in Mucheke A suburb are living, as well as the rest of the Zimbabweans, where there is glaring unemployment and poverty," said People's Democratic Party (PDP) national youth vice-president Arnold Batirai.
Before Mugabe came, thousands of people were involved in a stampede to get free dairy products from his Alpha and Omega diary, something skeptics say was a way of campaigning.
Scores of hungry people bused from as far as Mwenezi and rural Chikombedzi in the morning also fainted as they did not get any food after they expected to be treated to lots of meat and beer.
They were taken on stretchers to ambulances by paramedics.
In his address, Mugabe left the jobless youths dejected after he told them to create their own jobs, contrary to the party's 2013 election promise to create 2,2 million jobs.
"You should work for yourselves. Do not wait to be pushed by others or to be spoon-fed by your parents.
"Be a person who takes initiatives and be enterprising. If you are 19-20 years of age, you are now mature. If you are 20-30 years old, you will be more mature. If above 30, you are now a man who should be thinking for himself.
"Be self-employed, that is the informal sector. That is why we created a ministry headed by Sithembiso Nyoni. In India, 60% of their economy is anchored on the informal sector. So you cannot say there are no jobs or that you were employed at David Whitehead and it is closed. So you cannot do anything when you can sew?
"We do not want to hear youths who say there are no jobs. Bring those who say so to me and I will laugh at them and ask them what kind of men are they? Do you want to go and herd cattle? Choose what you want.
"Be a self-helper, not to wait to be assisted. If you are old and without parents to assist you, so you just fold your hands?" Mugabe shockingly said.
However, his statement was not taken lightly by the MDC-T, with the party's national youth secretary general Lovemore Chinoputsa describing the 93-year-old as "a monumental failure" who is out of touch with reality.
"Zanu PF promised 2,2 million jobs in 2013 and this is only showing that they have dismally failed to deliver on their electoral promises," he said.
"The youths should give a serious hiding to Zanu PF in the next elections for lying to them.
"The party has shown beyond doubt that it is incapable of delivering on their promises and so they should not be given another chance to continue leading this country.
"Mugabe is a monumental failure and it is time Zimbabweans tried a different leader to take us out of this mess, and this leader is none other than the tried and tested Morgan Richard Tsvangirai."
Chinoputsa said Mugabe's remarks were an insult to the youths in Zimbabwe.
"Mugabe is not in touch with the current economic situation in the country and he should stop insulting young people with his rhetoric that we should create jobs for ourselves," he added.
"It is public knowledge that the obtaining economic situation is making it difficult for existing businesses to flourish, it is foolhardy for any right-minded person to suggest or even dream that young people will start their businesses when the tax collector will be hard on their heels."
Mugabe said he also spurned the youth league's demands for stands in urban areas.
"Some youths in cities want stands. I told [Zanu PF youth secretary Kudzanai] Chipanga that if we keep on giving youth stands in towns they (cities) will be overwhelmed, we do not have such stands. Other countries realised it and started building sky-scrappers," he said.
Some angry youths walked out on Mugabe as his delivered his hour-long speech and national youth service graduates had a torrid time trying to stop them from leaving.
Masvingo Zanu PF youth provincial chair, Nobert Ndaarombe had to come down from the vip stage to give orders to the police as well to control the crowd, who were now making noise, bored by the speech.
They had flooded the venue from as early as 8am hoping to be given food, but they went back at around 5:30pm when Mugabe finished his speech, without eating anything as not everyone got the yoghurts.
Minister sued over farm takeover
Bishop in ugly fight over farm