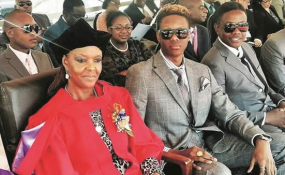 Photo: The Herald
Presidemt Robert Mugabe says his wife is in South Africa for a family emergency as the couple's children are stranded in South Africa.
Mugabe was speaking during the "Meet the Youth Rally" in Masvingo at Mucheke Stadium Friday.
The president revealed that his two sons, Robert (Junior) and Chatunga, need accommodation urgently and Grace travelled to the neighbouring country last week to sort out the crisis which has befallen the First Family.
Mugabe referred to this crisis as tsaona (accident) without elaborating.
"The First Lady (Amai) is not here with us. She travelled to South Africa where our sons Chatunga and Robert (Junior) are staying at the moment. They are in school as you are aware but they are facing accommodation problems.
"Amai (the First lady) would have loved to be with you here in Masvingo today for the rally, but unfortunately the 'accident' that took place in South Africa forced her to rush there.
"She asked me to send her apologies and hopefully will be with us in the next rally," Mugabe said.
In April this year, it was reported in some sections of the media that Mugabe's drop-out sons are living in South Africa after Robert Jr left Dubai under unclear circumstances.
The two were removed from Zimbabwe and Dubai respectively after Robert was allegedly involved in drug abuse crimes and Chatunga was failing to concentrate on his studies, so the family then decided to send them to South Africa for a new lease of life amid security concerns.
The two have been staying in a rented house in one of South Africa's upmarket suburbs, Sandton Johannesburg.